AVRUPA TIMES/LONDON-Cllr Ahmet (Andy) Dourmoush, who represents Longlands Ward, became the London Borough of Bexley's 59th Mayor at the Council's Annual Meeting on Wednesday 24 May.The new Mayoress is his wife, Mrs Elmaz Dourmoush. Cllr Dourmoush is the 71st person to hold the title of Mayor of Bexley since the old Borough of Bexley received its charter in 1937.Councillor Dourmoush was born on 27 September 1960 in London, but at the age of two months, his Turkish parents decided that they wanted to raise their children, back in their family home in Cyprus. Home to the Dourmoush family was a farm in the north of the island, where Turkish and Greek communities lived side by side in complete harmony. Eptakomi, or Yedikonuk, dependant in which community you were raised, was a place where life was incredibly simple. Councillor Dourmoush's Dad was a sheep farmer, often working away in the hills for many months at a time, looking after his flock of 400-500 sheep and goats, while his Mum raised their family in the traditional ways, back at home.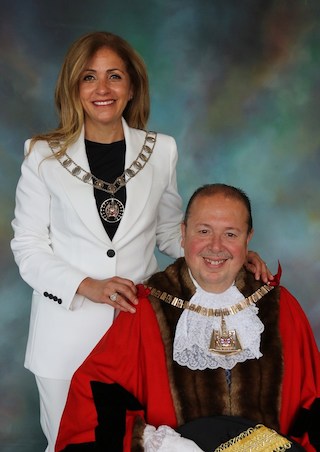 Mayor of Bexley Cllr Ahmet Dourmoush and Mayoress Mrs Elmaz Dourmoush
His Dad had arrived in the UK as a young man, in the early fifties, and by 1957, he had married and their family started to grow, so they had returned to their family home where the young Ahmet and his older brother grew up among the olive trees and learning the life of a farmer and businessman. Growing their own vegetables, watermelons, tomatoes, olives and even cotton and tobacco, life for the Dourmoush family was idyllic and self-sufficient, if at times a struggle. The family were poor, but Ahmet's memories are of a wonderful upbringing. His Mum would make the local cheese (Halloumi) and Ahmet and his brothers, by now five in total, attended the Turkish school in the village. Councillor Dourmoush remembers; "Class sizes were small, maybe five children in a room and our life was quite hard at times. Learning, then home to work on the family farm, supporting our Mum, until Dad arrived home."
In 1969, his parents decided that the best option for their children's future schooling would be for them to return to the UK. The family had relatives living in London and so it was on a cold London morning that Ahmet found himself standing at the exit of a BEA flight at Heathrow Airport, staring at his new life and home. The whole experience for Ahmet and his brothers was daunting. They had moved, literally from walking the warm hills of Northern Cyprus, to standing at the top of an escalator in the airport. Councillor Dourmoush remembers: "I looked down and the stairs were moving? I had absolutely no idea what they were, or indeed, how to negotiate them and I was scared. This was a completely different world to the one I had left behind."
A short stay with his grandmother in Stoke Newington, followed by a few weeks with other family members in Finsbury, made Ahmet's Mum and Dad realise that they needed their own home, so with thanks to a close friend, the Dourmoush family set up home in a flat, above a shop in Deptford. The next seven years were spent in the John Evelyn Primary School, Deptford, followed by his secondary education in the West Greenwich Boys School. Ahmet excelled in many of his subjects and he was clearly a studious boy. He loved Maths, so when the results of his 'O' Levels were received, it was obvious to him and his parents that college beckoned, where it was history and Maths at A Level standard for the next few years. His ambition was to fly helicopters, although he thoroughly enjoyed sports education,  so a career as a PE Teacher was also considered.
In 1981, an opportunity presented itself for the young Ahmet to train as a Technician Improver with BT, an apprenticeship that was an excellent opportunity, so Lewisham College became his new place of study, before taking up his new profession in the City and it was there that he stayed, until an offer of redundancy in 1992, once again had offered him a new direction. In 1985, he had met a young Turkish Cypriot woman, called Elmaz, who was visiting the UK. Within a year, they had married and three years later, their first daughter, Salise, was born. Ahmet recalls: "My Dad had set up a Halal meat business, buying and selling for local shops and my brothers were supporting my parents, so it was obvious that I needed to join the 'family business.' It was just progression from my life in the City to working alongside my brothers and I very quickly learnt how to cut up meat, in preparation for selling.
In 1994, their second daughter, Sedef, was born and with their family complete, they moved to Danson Road, opposite the park gates. Ten happy years were spent there, before a move to Hurst Road in Sidcup. By now, Ahmet and his brothers were running the family business and his parents had moved back home to Cyprus, once more to live on that same family farm, which is still owned by Ahmet and his brothers to this day. Life was good for Ahmet and his young family, and the business, Eden Valley Foods, had by now been transferred to much larger and more appropriate premises in Erith, in 1989.
In 1999, tragedy struck the family. His Mum and Dad had been on holiday in the Turkish coastal town of Yalova, when the Marmaris earthquake occurred. Both of his parents were killed that day. Ahmet remembers: "My brother and I travelled out to Turkey as soon as we heard the news and it was us that found them and dug them out, but sadly, we lost them both that day. We had been raised in a wonderful, liberal and open way and the loss of our parents, in such a cruel manner, was devastating for the whole family."
In 2007, Ahmet was sworn in as a Justice of the Peace. The opportunity to become a Magistrate in his local community offered him the chance to give something back, which was always an ambition he held. Sport had always played a huge part in his life and he played both football and rugby to a good standard. Playing rugby as a 'hooker' for Blackheath had sparked a love for the game, which to this day, he still has, supporting the Barbarians and his trips to Twickenham to watch England are a great joy to him. Ahmet also served on the London Football Association and was for 10 years until 1993, the Chairman and Secretary of the Turkish Community Football Federation. He was captain of the Woolwich College FC team and is an avid fan of Millwall FC.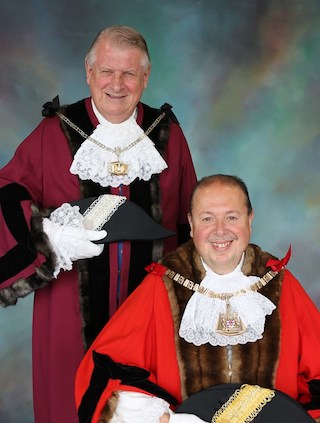 Mayor of Bexley, Cllr Ahmet Dourmoush and Deputy Mayor Cllr Nigel Betts
It was in 2010 that Councillor Dourmoush became very interested in local politics, joining the Old Bexley & Sidcup Conservative Association (OBSCA) and it was in 2014 that he successfully fought and won the Conservative nomination for Longlands Ward and it was in May of that year that he was duly elected. He successfully defended the same seat in both of the 2018 and 2022 local elections. With his fondness for maths, Councillor Dourmoush has been the Chairman of the various Council scrutiny committees that oversee the Corporate Resources and Finance brief and he only leaves that position now, as he becomes the Borough's Mayor. Councillor Dourmoush talks about his life and work and sums it up: " I was taught at a very young age to value everything, which is most important when you have little and my work with the scrutiny function of the Council has allowed me to support others to get the best possible value for every £ that we spend in the Borough. As a businessman, I have to reach out to all communities. They are my customers and my residents and now, as Mayor, I want to represent every single one of the quarter of a million people that make Bexley their home and place of work."
The Mayor-Elect added: "I think that I always held an ambition to become Mayor of Bexley, a major London Borough and I intend to work as hard as I can to meet and support everyone that calls Bexley their home. I could not feel any prouder than I do today and I have set myself the highest standards to be the best representative of our Borough that I can be."
The Mayor appointed Councillor Nigel Betts, who represents Falconwood & Welling Ward, as his Deputy Mayor and Mrs Ann Morrison, as the Deputy Mayoress. The Mayor has appointed Hussain Hodja from the Shackwell Lane Mosque as his Chaplain. This is one of the Mosques where Councillor Dourmoush attends.
The Mayor has announced that he and the Mayoress will be working throughout his Mayoral year to raise funds for small local charities.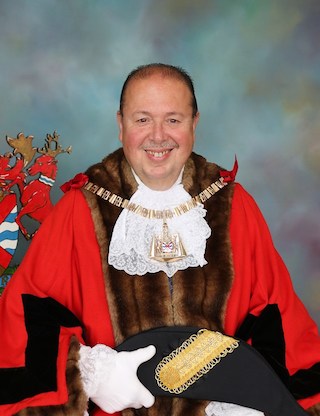 When relaxing at home, Councillor Dourmoush's favourite past-time is to cook food, often Turkish based.

He thoroughly enjoys spending time with his family.
His daughter Salise is a Lawyer, currently working in the City of London and his daughter Sedef, now has a master's degree and works for HSBC, again in the City.
He thoroughly enjoys travelling and does so whenever he can find the time.
He and Elmaz have been married for 37 years.
He has run a local charity in Blackfen for many years, organising a complimentary Turkish School.
As a young man, his grandfather ran a lucrative business in Cyprus, utilising camels to transport among other items, coal and goods, from the north to the southern port of Pathos, where they would be exported around the globe.
He maintains close contact with members of the village where he grew up in Cyprus and he returns to his home there, when he can.