A group of 30 UK Turkish Cypriots held a candlelit vigil outside the "Cyprus High Commission" today to remember the 58th year of the start of attacks on the Turkish community of Cyprus by Greek Cypriot militia, and mourn the victims.This was a sombre occasion for the participants of the Vigil who held placards with photographs of the 133 Turkish Cypriots who were murdered during the 10 days following 21 December 1963. They also held tablets and phones which displayed the tragic events of that time.
The video is accessible on https://youtu.be/Ym89BG0nPA4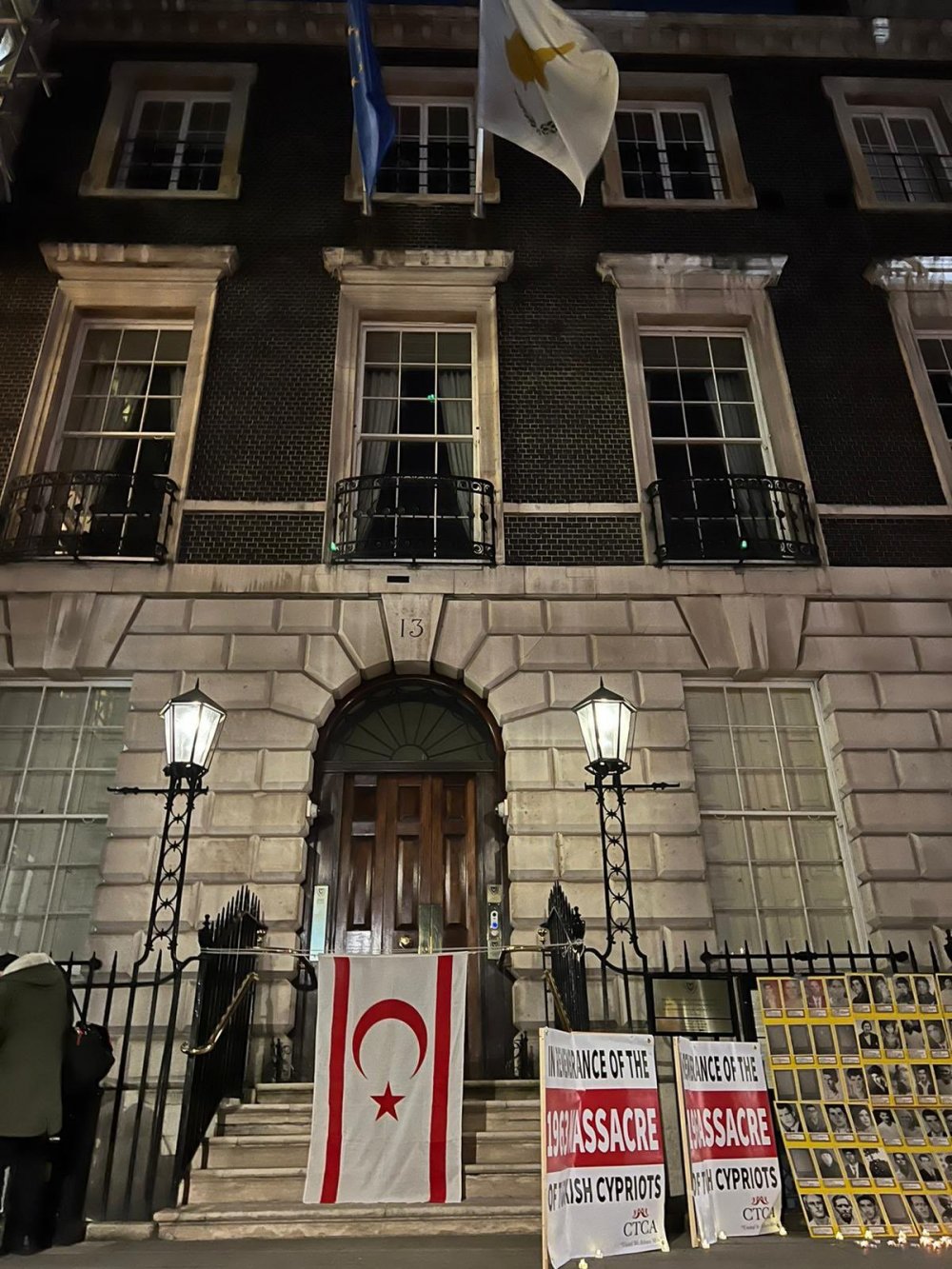 The congregation handed in a petition to the "Cyprus High Commission". This called on the Greek Cypriot Administration (GCA) to tell its people and the world the truth about the Cyprus Conflict. It asked the GCA to recognise the suffering of Turkish Cypriots, and apologise for its role in persecuting them, bring to justice all those responsible for crimes against humanity and end the inhumane embargo against the Turkish Cypriots of Northern Cyprus.
Ayse Osman, Chair of the Council of Turkish Cypriot Associations in the UK said "Each year, Turkish Cypriots have mixed feelings about Christmas and New Year celebrations. On the one hand, they wish to have a joyous time with their family and friends, on the other hand, many will remember the terrible "Bloody Christmas" massacre and its victims. It is difficult to understand how anyone can start a campaign of terror at a time that is meant to be about love, forgiveness and tolerance.
Many believe the Cyprus Conflict started in July 1974. In fact it started in 1963 with 'Bloody Christmas'. Greek Cypriot authorities continued these attacks until Turkey intervened 11 years later, and put an end to the violence."
She also said "Turkish Cypriots exist. We are proud of our cultural heritage and our people. We will make sure that the Turkish Cypriots are never put into the position of vulnerability that they were in, in 1963."
  
Council of Turkish Cypriot Associations (UK)

About CTCA – www.ctcauk.com
The Council of Turkish Cypriot Associations was established in 1983 and is Britain's largest umbrella body for the Turkish Cypriot community, representing 300,000 Turkish Cypriots.