WikiLeaks founder Julian Assange has been arrested in Ecuador's Embassy in London on Thursday, the Metropolitan Police said in a statement.
"Julian Assange, 47, (03.07.71) has today, Thursday 11 April, been arrested by officers from the Metropolitan Police Service (MPS) at the Embassy of Ecuador, Hans Crescent, SW1 on a warrant issued by Westminster Magistrates' Court on 29 June 2012, for failing to surrender to the court," the statement said.
Assange has been "taken into custody at a central London police station where he will remain, before being presented before Westminster Magistrates' Court as soon as is possible," the statement added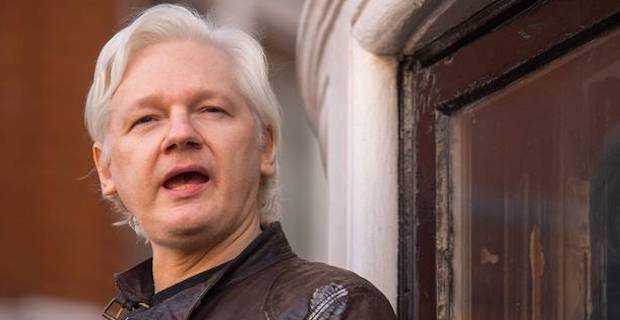 The police said they had a "duty to execute the warrant, on behalf of Westminster Magistrates' Court, and was invited into the embassy by the ambassador, following the Ecuadorian government's withdrawal of asylum."
The founder of WikiLeaks was expelled from the Ecuador's Embassy in London, his home for nearly seven years, today.
British Home Secretary Sajid Javid confirmed Assange was in police custody and "rightly facing justice in the U.K.," adding "no one is above the law."
"Very welcome news to see that Assange is out of the Ecuador Embassy," Alan Duncan, Minister of State for Europe and the Americas said.
"My thanks to [Ecuadorian] President Lenin Moreno and his government for their cooperation and tireless diplomacy in making this happen," he thanked Ecuadorian authorities.
Last week, the WikiLeaks had claimed that "a high level source within the Ecuadorian state has told WikiLeaks that Julian Assange will be expelled within 'hours to days' using the INAPapers offshore scandal as a pretext -- and that it already has an agreement with the UK for his arrest," said WikiLeaks on Twitter, referring to documents allegedly implicating corruption by Ecuador's president.
A Metropolitan Police arrest warrant was still in force after Assange absconded after his release on bail in 2010.
Assange has been holed up at the Ecuadorian embassy located in Knightsbridge, central London, for nearly seven years after claiming diplomatic asylum in June 2012 after being wanted by Swedish prosecutors for questioning over various alleged sexual offenses.
Sweden since dropped the charges against him, but Assange remains in the embassy fearing extradition to the U.S. on charges over WikiLeaks' release of sensitive US government files.
He was supposed to be extradited to Stockholm by British authorities before entering the embassy.