New data shows that the Cycleways networks in Waltham Forest and Enfield are among the best connected in London, with 51 per cent of Enfield residents and 40 per cent of Waltham Forest residents now living within 400m of the Cycleway network. TfL has also published new user-friendly maps showing the local Cycleways network to help people plan their journeys by bike. This year, TfL has launched a record 16 new Cycleways connecting more than 600,000 additional Londoners to within 400m of high-quality cycling infrastructure. The new Cycleways are supporting a boost in cycling with a 38 per cent increase in cycling in Enfield and 77 per cent increase in Waltham Forest since 2019 Transport for London (TfL) has launched four new Cycleways in Enfield and Waltham Forest that have further expanded the network, making it even safer and easier for people to travel around north and east London by bike. The new or extended routes have been delivered rapidly alongside TfL and the boroughs' existing programme to build new walking and cycling infrastructure, helping people to access jobs, schools, and hospitality by bike, and has added 10km to London's network of safe cycle routes.
TfL and the boroughs' continued work to develop Cycleways in outer London means that more than 40 per cent of people in Waltham Forest are within 400m of a high-quality cycle route, contributing to the Mayor's target of 40 per cent of Londoners living within 400m of a high quality cycle network by 2030. Neighbouring Enfield also has one of the capital's largest Cycleway networks with 51 per cent of residents living within 400m of high-quality cycling infrastructure.
Delivering high-quality new cycleways will enable Londoners of all backgrounds and abilities to cycle safely, encouraging greater diversity in cycling.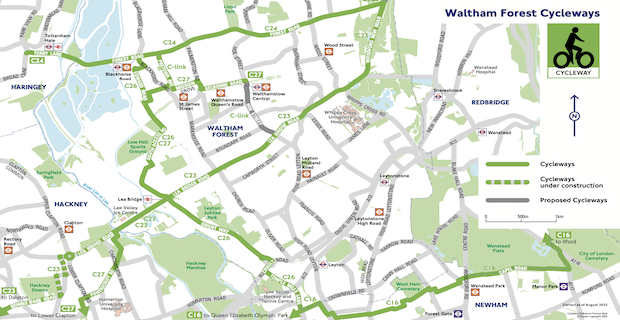 The new cycleways that further expand the cycleway network in London include: 
Cycleway 23 - Lea Bridge to Woodford New Road 
Extension of existing route connecting Lea Bridge Road to Woodford New Road with links to C24 (Tottenham Hale to Whipps Cross), C26 (Chobham Manor to Blackhorse Road) and C27 (Acton to Walthamstow) 
Cycleway 24 - Tottenham Hale to Whipps Cross 
Extension of route from Wood Street to Whipps Cross with connections to C26 (Chobham Manor to Blackhorse Road) and C23 (Lea Bridge to Whipps Cross) 
Cycleway 26 - Chobham Manor to Blackhorse Road 
Connects to C23 (Lea Bridge to Whipps Cross), C24 (Tottenham Hale to Whipps Cross), and C27 (Acton to Walthamstow) 
Cycleway 58 - Southgate to Palmers Green 
Connects to C20 (Enfield Town to Wood Green) and the wider Enfield network 
The routes that make up the Cycleway network include a 10km route in Enfield, which forms part of London's longest, continuous Cycleway from the M25 to the City. This is more than 20km long, and connects town centres in Enfield, Haringey, Hackney and The City of London.
For the launch of the Cycleway networks in Enfield and Waltham Forest, TfL has created two new and user-friendly maps that show where the Cycleways are and how they link to create the local area networks. 
The recently launched network in the boroughs also link together: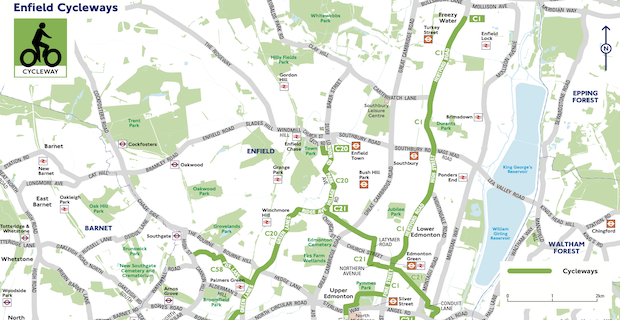 Enfield 
C21 – Meridian Water to Bush Hill Gardens 
C20 – Bowes Park to Enfield Town 
C1 – Freezywater to The City of London 
Waltham Forest 
C27 – Acton to Walthamstow 
TfL and London boroughs have more than tripled the size of the London-wide Cycleway network, from 90 km in 2016 to more than 350km in 2023, meaning that more than one in five Londoners now live near the Cycleway network. TfL is making great progress transforming outer London for people walking and cycling. Further Cycleways are planned next year across outer London including in Barnet, Bromley, Ealing, Lewisham and Redbridge.
Will Norman, London's Walking and Cycling Commissioner, said: "Well-connected and high-quality cycleways play a crucial role enabling more Londoners to cycle safely.
"We have already seen a significant boost in cycling in north and east London and the Mayor is committed to building on this progress even further. These new cycleways in outer London will make cycling safer and more accessible to more communities across the capital – helping to build a fairer, safer, greener London for everyone."
Helen Cansick, TfL's Head of Healthy Streets Investment, said: "We are excited to see a network of Cycleways emerging in Enfield and Waltham Forest as these are helping to unlock safer cycling for all Londoners. These high-quality cycling networks have seen a dramatic increase in people cycling, bringing a range of health and environmental benefits to local communities. We are continuing to work closely with boroughs and invest in further active travel schemes, which connect even more Londoners to our high-quality cycle network and make cycling more accessible to all."
Councillor Clyde Loakes, Waltham Forest Deputy Leader and Cabinet Member for Climate and Air Quality, said: "It's fantastic that we have continued to build on the progress we've made in Waltham Forest towards safe cycling routes for everyone– and that we are linking up with our neighbouring boroughs so that people can feel confident and safer cycling longer distances across our great city. As we come up to 10 years since the introduction of the original 'mini-Holland' scheme across Waltham Forest we can see from the numbers of residents now regularly cycling, how much of a difference it has made in enabling and supporting more residents to take up every day cycling for their journeys to work, for leisure and pleasure, the school run, visiting places of worship, health needs, shopping and so much more!"
TfL's updated Cycling Action Plan plays a vital role in making cycling a fundamental part of a greener, more progressive, modern city where everyone who wants to cycle can do so. The plan outlines why it is essential to broaden the appeal of cycling to a more diverse range of Londoners to ensure cycling levels continue to increase at pace and that all Londoners benefit from the health and economic benefits of cycling. TfL's research shows that people from under-represented groups are open to taking up cycling. The plan outlines ambitious evidence-led measures to support these groups by addressing the barriers they face. 
 TfL's funding agreement with Government secured £80m per year to be invested in walking and cycling schemes, with a further £69m per year allocated to boroughs 
To find out more about where the cycleways are in Waltham Forest and Enfield as well as throughout London, visit https://tfl.gov.uk/modes/cycling/routes-and-maps/cycleways