The number of A* grades across Islington is up on last year and, while the overall borough average is still being calculated, the indications are that students did at least as well as in 2017.The Mayor of Islington, Cllr Dave Poyser, met students at Central Foundation Boys' School near Old Street as they picked up their results this morning, took a tour of the school and chatted to staff.Cllr Poyser said: "It was fascinating talking to the students today about their hopes and ambitions for the future. You don't get results like this without putting in the work, and every one of them can hold their head high today knowing they have earned their grades.
"I'm sure their experiences here will stand them in good stead for their next steps, where they can forge bright futures and rewarding careers. Congratulations to every one of them – and of course their dedicated, hard-working teachers who have supported them throughout."
The hard work of students, supported by dozens of dedicated teachers right across the borough, has helped them to secure places in some of the country's top universities and apprenticeship schemes.
At Central Foundation Boys' School, student David Adewale took home an A* in business and A grades in psychology and geography, landing him a place at the University of Bath to read business administration. "I didn't get any sleep last night," he said, "I was very nervous. [After I checked the UCAS tracker] I was so overwhelmed I didn't comprehend what it actually meant!"
Bencan Yalcin also got A* grades in maths and further maths, plus a B in physics. He is heading to Imperial College London to read biomedical engineering. "It's a very broad subject, focused on the human body and using principles of engineering to look at limbs, joints and maybe nanotechnology," he said. "I didn't get nervous until today, I just got a bit of butterflies, but I was confident." Bencan found out he had been accepted at Imperial while on the bus – and celebrated by playing himself a tune by Drake from his mobile.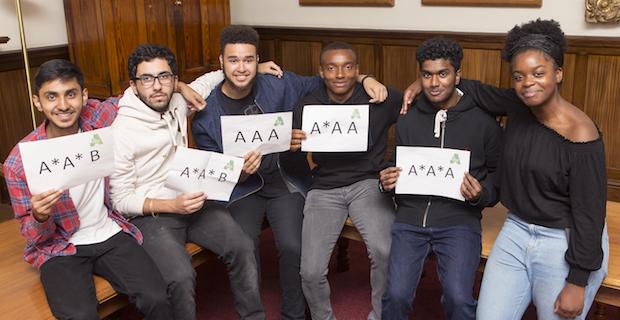 Abigail Tshola is heading to the London School of Economics to study sociology after getting three Bs in English, French and sociology. "I didn't think I could get a B in French and to get into LSE is fantastic," she said. "I'm excited to join the clubs and societies, and you meet so many new people."
Brendan Hajar got a clean sweep of three As in biology, chemistry and maths and will study at the University of Manchester. "I found out on the bus, so I had to keep my cool," he said. "I just sighed and de-stressed. I think I will get on really well in Manchester. Eventually I hope to do a PhD in neuroscience."
Mithurson Alagendran said he was "surprised" with his A* grades in maths and biology, plus an A in chemistry. "I'm applying for medicine, which is a really competitive course," he said. "The most likely option for me is to take a gap year and get some more medical experience in a hospital."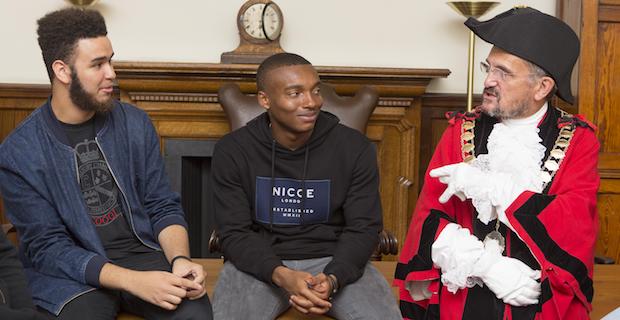 Mohseen Hussain earned A* grades in maths and further maths with a B in physics, earning him offers from Southampton and King's – but he plans to bide his time and apply next year for a place at University College London or Imperial College London to study informatics or intelligent systems. "My parents were more nervous than me; they are very proud. I really want to stay in London so I will take a gap year," he said. "I did work experience in the summer as an ICT technician at Camden Council and got a job offer, so I might take that."