The Met Police said they were called to a stabbing at a premises near the bridge just before 14:00. The force said it had detained a man. London Ambulance Service has declared a "major incident". The BBC's John McManus, at the scene, said he had seen a group of men in a fight on the bridge. Police then arrived and shots were fired, he said.  British Transport Police said London Bridge station was currently closed and no trains would be stopping there.  Police have advised people near the scene to follow directions from officers on the ground.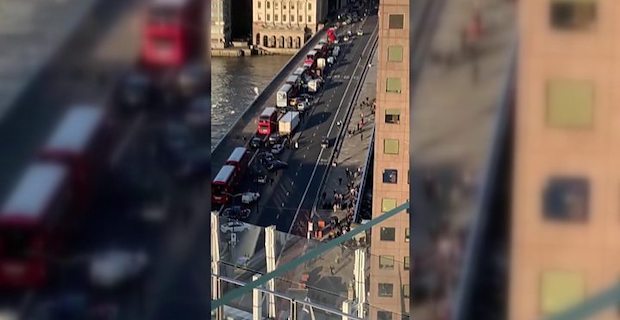 The prime minister tweeted he was being updated on the incident and wanted to thank police and all emergency services for their response. Home Secretary Priti Patel also tweeted that she was "very concerned" about the incident. McManus told the BBC News channel: "Just a few minutes ago I was walking across London Bridge on the south bank to the north bank of the bridge.  "There appeared to be a fight going on on the other side of the bridge, with several men attacking one man.  "Police then quickly arrived, including armed police, and then a number of shots were fired at this man."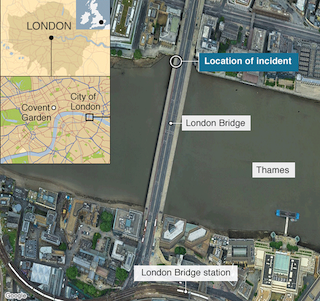 A video has emerged showing police officers aiming guns at a white lorry that jack-knifed across London Bridge. The footage shows several officers surrounding the vehicle before moving to the rear to check its container.
London buses can be seen either side of the lorry while three police cars are parked next to it on the bridge.
Noa Bodner, who is stuck in a restaurant on London Bridge, told BBC News channel: "There was a rush of people coming in and everybody basically dived under the tables. 
"We were told to keep away from the windows, people that came from the outside were saying that shots were fired." 
She said the manager ran to lock the doors and staff told people to move away from the front of the restaurant. 
She said the mood was "calm", "some people seem a bit distressed, but they're being looked after by friends or staff".
Source: BBC News