AVRUPA TIMES/LONDON-Turkish Cypriot Enfield Cllr Nesil Caliskan Shortlisted for 2019 Cllr Achievement Award. Nearly 250 nominations received across England and WalesThe LGiU and CCLA are delighted to announce that Cllr Nesil Caliskan of London Borough of Enfield Council has been shortlisted for the 2019 Cllr Achievement Awards for Leader of the Year.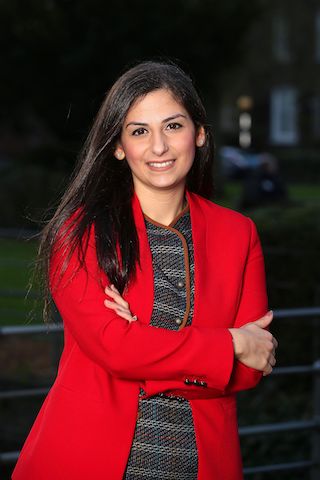 This year marks the tenth year that the Awards have been showcasing the achievements of councillors across England and Wales. The Cllr Awards are the only national ceremony to celebrate the important work of councillors. These Awards are a uniquely important way to highlight what local councillors do for their communities, a task that so often goes unrecognised.
Competition was extremely tight again this year with nearly 250 nominations received, a record amount for the Awards. Some of the seven categories up for grabs include Leader of the Year, Young Councillor of the Year, Community Champion and Environment and Sustainability Pioneer. A full lis of categories is included below.
The full shortlist is available below. The winners will be selected by a group of judges made up of local government experts and councillors. Winners will be announced at the Cllr Achievement Awards ceremony taking place on Tuesday 5 November at the Royal Horseguards Hotel in Westminster.
Jonathan Carr-West, Chief Executive, LGiU said: "For the tenth year, LGiU is proud to honour the hard work of councillors across England and Wales that so often goes unrecognised.
This year's shortlist is by far one of the most impressive we have seen to date, showcasing the achievements of the best and brightest councillors up and down the country. These councillors deliver for their communities in increasingly challenging and hostile times alongside severe budget constraints. Despite all of that and more, their determination and resolve has left their communities safer, stronger and healthier, thanks to their efforts.
We would like to congratulate all of those councillors shortlisted and look forward to announcing the winners in November."
About LGiU
The Local Government Information Unit (LGiU) is a think tank and membership body with over 200 councils and other organisations subscribing to our networks. We work to strengthen local democracy and put citizens in control of their own lives, communities and local services. For more information, visit www.lgiu.org.uk.
About CCLA
CCLA is a leading specialist fund manager for local authorities and charities. When they began sponsoring the Cllr Achievement Awards they had 22 local authority accounts. Today they have over 400 and this number is growing every month. They are owned by their clients – their mission is to serve the whole sector, regardless of size.
About the Awards
The LGiU's tenth annual Cllr Achievement Awards celebrates the amazing work being done by councillors across England and Wales. Past winners can be found here. Rules for the Awards can be found here. Additional information on the Cllr Awards can be found here. Follow #CllrAwards19 for all updates.
About the Nominee
Cllr Nesil Caliskan is the first female leader of Enfield Council, the first BAME leader of the local authority and the youngest female council leader in the UK. A political activist since she was a teenager, Cllr Caliskan has lived in Enfield her whole life. Prior to becoming the council leader, she gained experience working for NHS England.
About the Awards Category
Leader of the Year - Leaders and elected mayors are integral to the strategic direction of the council – in articulating the vision, setting priorities and overseeing the delivery of these objectives. Effective leaders will be skilled in drawing together diverse views and working across party political lines to ensure all residents' views are reflected in council policies. They are able to oversee the day to day operations to ensure the council is acting responsibly, legally and in line with political priorities, and must nurture healthy working relationships with councillors colleagues and officers.
As the public face of the council, leaders will have strong relationships with community groups and put residents at the heart of what they do. They will be prepared to answer the difficult questions and ensure that they are held accountable for decisions that are made.
The councillor who wins this category will demonstrate that they have:
-an outstanding commitment to their role as a councillor and council leader;
set a clear vision for the council's role and priorities that meets the needs and preferences of the community;
-successfully led the council towards achieving this vision;
-strong relationships with community groups and council partners;
-a strong commitment to transparency, accountability and scrutiny;
-successfully united the council, accommodating different views and party splits, to deliver the best outcomes for the community.
Successful submissions will:
-provide clear examples of work or projects they have carried out that have benefitted residents (either internal council structures/processes or outward-facing projects);
-focus on how the leader has gone above and beyond their statutory role;
-outline how they have effectively managed the council.
2019 Cllr Awards Shortlist
Community Champion
Cllr Raushan Ara - Thanet District Council
Cllr Samata Khatoon - London Borough of Camden
Cllr Mimi Harker OBE - Chiltern District Council
Cllr James Mustoe - Cornwall Council
Cllr Lilian Dodd - Stoke-on-Trent City Council
Cllr Jacky Smith - South Kesteven District Council
Finance and Economic Development
Cllr Kelham Cooke - South Kesteven District Council
Cllr Mike Appleyard - Buckinghamshire County Council
Cllr Mete Coban - London Borough of Hackney
Cllr Keith Onslow - London Borough of Bromley
Cllr Kaya Comer-Schwaz - London Borough of Islington
Innovation and Service Transformation
Cllr Janet Gardner - London Borough of Hillingdon
Cllr Chris Penberthy - Plymouth City Council
Cllr Manju Shahul-Hameed - London Borough of Croydon
Cllr Rob Rotchell - Cornwall Council
Cllr Shrobona Bhattacharya - South Cambridgeshire District Council
Cllr James Halden - Thurrock Council
Leader of the Year
Cllr Darren Rodwell - London Borough of Barking and Dagenham
Cllr Susan Hinchcliffe - City of Bradford Metropolitan District Council
Cllr Martin Tett - Buckinghamshire County Council
Cllr Barry Lewis - Derbyshire County Council
Cllr Vikki Slade - Bournemouth, Christchurch and Poole Council
Cllr Nesil Caliskan - London Borough of Enfield
Environment and Sustainability Pioneer
Cllr Carla Denyer - Bristol City Council
Cllr Sally Longford - Nottingham City Council
Cllr Sandra Squire - Norfolk County Council
Cllr Clyde Loakes - London Borough of Waltham Forest
Cllr Brenda Burgess - Crawley Borough Council
Cllr Simon Pickering - Stroud District Council
Lifetime Achievement
Cllr Helen Holland - Bristol City Council
Cllr Noel Brown - Buckinghamshire County Council
Cllr Lord Peter Smith - Wigan Metropolitan Borough Council
Cllr Colin Spence - Suffolk County Council
Cllr Mohammed Khan OBE - Blackburn with Darwen Council
Cllr Philip Broadbank - Harrogate Borough Council
Young Councillor of the Year
Cllr David Beaney - Dover District Council
Cllr Mariam Dawood - London Borough of Newham
Cllr Roberto Weeden-Sanz - London Borough of Barnet
Cllr Harry Doyle - Liverpool City Council
Cllr Beverley Momenabadi - City of Wolverhampton Council