To kick-start the celebrations, festive lights will be switched on in high streets and town centres across the borough. Residents are invited to join the Mayor of Enfield, Cllr Suna Hurman, who will be switching on the lights in Palmers Green town centre, with local school children on Thursday 23 November.  
Cllr Hurman will also be switching on the Christmas tree lights on Fountain Island in Enfield Town at a special Christmas Parade of Lights on Sunday 3 December.
The Enfield Christmas Parade of Lights is organised by a group of Enfield residents for the benefit of the local community.
The free event is brought to the borough with the support of The Old Enfield Charitable Trust, Palace Gardens Shopping Centre, and local businesses Pearsons of Enfield, F. Upson Funeral Directors, G. Mantella Jewellers Enfield, Cottage Fields and 3 Drakes. 
It will include many events in the Market Place including a mini fun fair, an exhibition of vehicles from Whitewebbs Motor Museum, stalls from local community groups and music on the bandstand including Christmas carols.  A fireworks display sponsored by Pearsons as part of their 120th birthday celebrations will take place at 5.45pm. The display will be conducted by the Enfield Scout Firework Team. Further details can be found on the Parade's Facebook page at: https://www.facebook.com/EnfieldParadeOfLights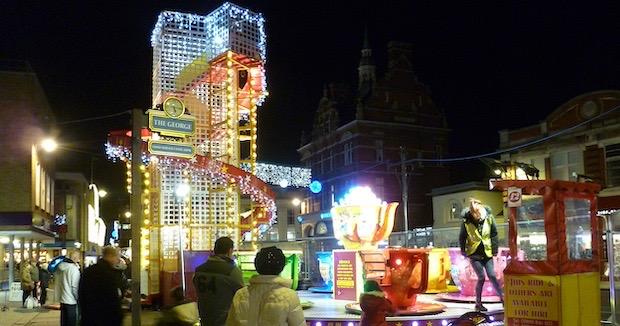 Over in Upper Edmonton, Enfield Council's award-winning affordable workplace scheme - Angel Yard - will be hosting a community tree lighting event with partners Launch It. Young entrepreneurs and local small businesses will join the celebrations on 23 November which will include a local choir, gift hunting at Angel Yard shops and mince pies.  The event is free but you will need to book your place via Eventbrite at: https://www.eventbrite.com/e/angel-yard-community-tree-lighting-event-free-tickets-750008715257
Enfield Council's Cabinet Member for Public Spaces, Culture and Local Economy, Cllr Chinelo Anyanwu, said: "I'm looking forward to seeing our town centres majestically lit up for the festive season. I would encourage everyone to come and take a look at their local town centre, and of course, to support local businesses if you're looking to start your Christmas shopping."
In total, Enfield Council will decorate seven town centres. See below for the full lights switch-on programme.
Christmas wouldn't be Christmas without seasonal entertainment for families. Dugdale Arts Centre (DAC) in Enfield Town will be hosting several productions including:
Winter Tales - A fun festive show by local theatre group Chickenshed (26 November to 13 December).
Magic Lamp - A boy who has a lamp-dwelling genie at his disposal (19 to 23 December).
King of Nothing - A puppet show with songs, slapstick and more for children and adults (27 to 30 December).
There are also lots of activities taking place at historic Forty Hall during the festive period. Visit the DAC's Christmas webpage for more details and tickets: https://www.dugdaleartscentre.co.uk/whats-on/enfield-culture-at-christmas
Christmas lights switch-on programme
Enfield Town
Thursday 23 November with an official event on 3 December
Palmers Green and Angel Edmonton
Thursday 23 November
Cockfosters, Ponders End, Southgate and Winchmore Hill
Monday 4 December