He is expected to promise agriculture will thrive with new trade deals. It follows the Farmers' Union of Wales president warning of "civil unrest" in rural areas if the UK leaves the European Union without a deal. He will also meet Wales' First Minister Mark Drakeford, who said the PM has "no public mandate for a no-deal Brexit".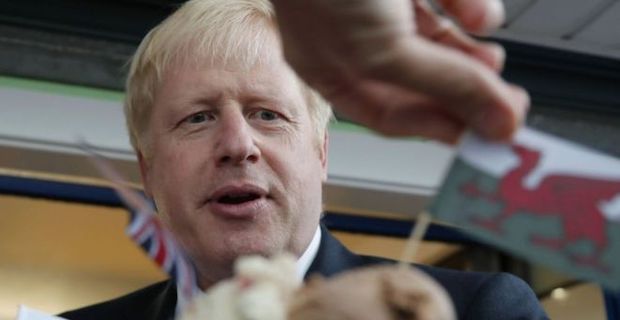 Mr Johnson's visit is the latest in his tour of the United Kingdom since becoming prime minister, after a trip to Scotland at the start of the week. On Monday, the prime minister said there was "every chance" a Brexit deal with the EU could be struck, but the existing agreement with the EU has "got to go". But senior minister Michael Gove, who has been put in charge of preparing for no deal, has said the UK government was working on the assumption the UK would leave the EU without an agreement. Mr Johnson's visit to Wales comes as the Conservatives fight to hold the Brecon and Radnorshire seat in a by-election on Thursday - he is expected to visit the constituency on Tuesday.
Ahead of the visit, the prime minister said: "I will always back Britain's great farmers and as we leave the EU we need to make sure that Brexit works for them. "That means scrapping the Common Agricultural Policy and signing new trade deals - our amazing food and farming sector will be ready and waiting to continue selling ever more not just here but around the world. "Once we leave the EU on 31 October, we will have a historic opportunity to introduce new schemes to support farming - and we will make sure that farmers get a better deal." The farming industry is worth more than £6bn to the Welsh economy and supports 14,000 businesses, 45,000 jobs and about 25,000 farmers. Welsh lamb will face at least 40% tariffs in a no deal scenario, prompting a sheep farmer to call for Mr Johnson "to stop playing Russian roulette with the industry as he appears to be doing at the moment". "If we do go out with a no deal, it will be absolutely catastrophic even if it is just for a few months," Helen Roberts, development officer for the National Sheep Association in Wales, told Radio 4's Today programme. She said her members will protest against a no deal Brexit: "I think its time to come and stand up for ourselves, and be counted."
BBC NEWS