Prime Minister Boris Johnson has urged caution as most legal restrictions on social contact are lifted in England.There are now no limits on how many people can meet or attend events, nightclubs reopened at midnight, and table service will not be necessary in pubs and restaurants.Face coverings will be recommended in some spaces, but not required by law.The PM, chancellor and the health secretary are self-isolating, and there are warnings cases will surge.Some scientists are predicting that UK infections - currently at about 50,000 a day - could reach 200,000 a day later in the summer.But with more than 68% of UK adults fully vaccinated modelling suggests hospital admissions, serious illness and deaths from Covid-19 will be at a lower level than in earlier peaks.
Here is the government full details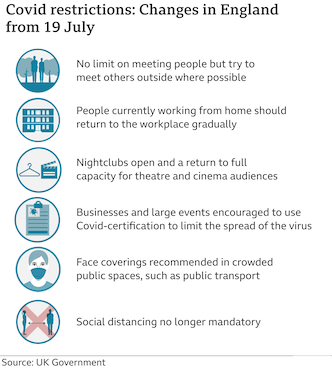 How are Covid rules changing on today?
How many people can I meet now?
Will 19 July unlocking gamble pay off or backfire?
Nightclubs reopen at midnight to new challenges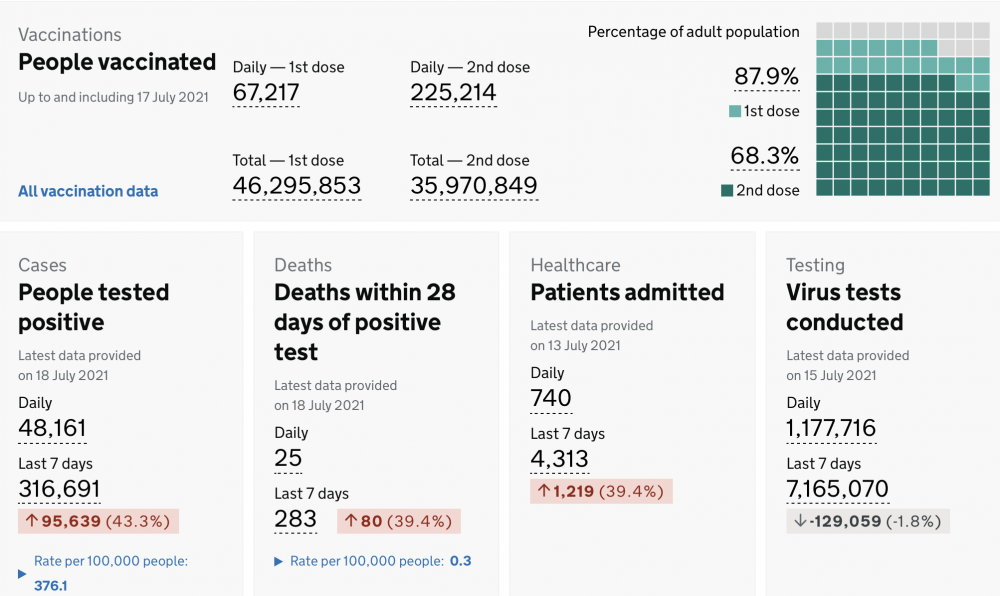 In a video posted on Twitter on Sunday afternoon, the prime minister said now was the "right moment" to move to the final stage of England's roadmap out of lockdown.
"If we don't do it now we've got to ask ourselves, when will we ever do it?" he asked, adding that the virus would have the "advantage of the cold weather" in autumn and winter.
"But we've got to do it cautiously. We've got to remember that this virus is sadly still out there. Cases are rising, we can see the extreme contagiousness of the Delta variant."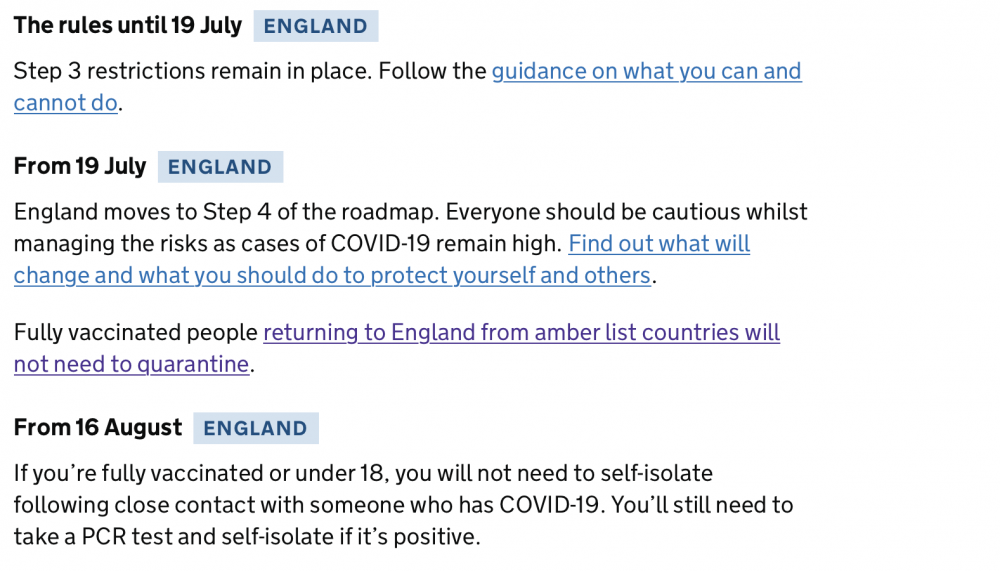 Labour's shadow health secretary Jonathan Ashworth said ending legal mask requirements and the recommendation to work from home was "reckless" and warned of a "day of chaos" on the transport network as people returned to offices after months away."The last thing we want on a day like this is chaos and for the public health measures to be undermined," he told BBC Radio 4's Today programme.
As restrictions ease in England, businesses such as nightclubs - and large events - will be encouraged to use the NHS Covid Pass to check people are fully vaccinated, have natural immunity from infection or have a recent negative test.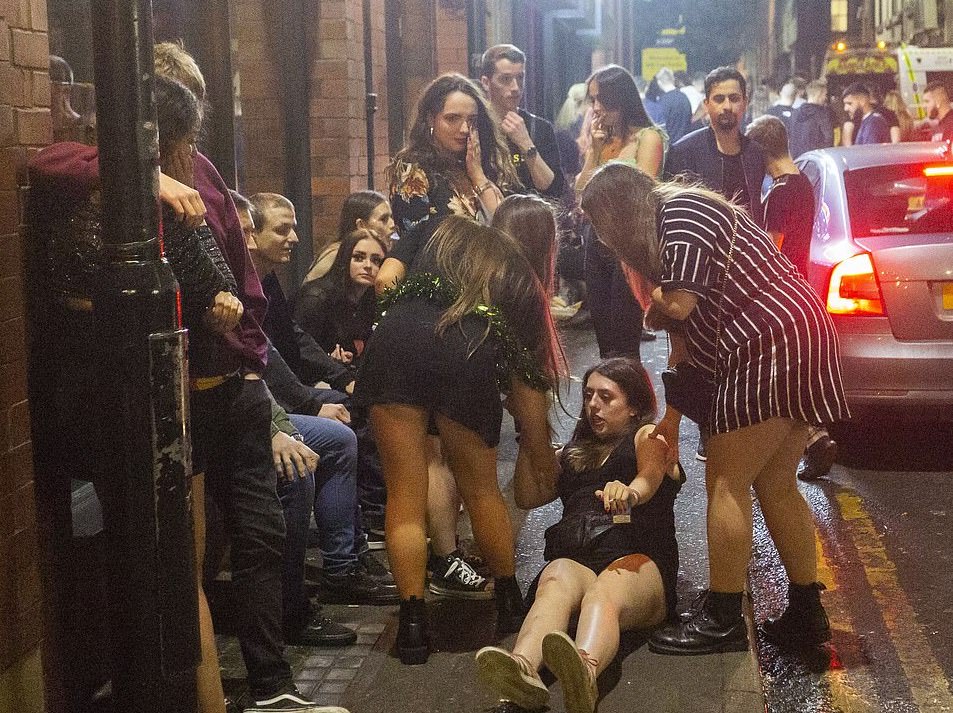 At Fibre in Leeds, these checks were not being used. While some clubgoers said they were a little nervous, most were overjoyed to return to the dance floor."It's been literally the best night of our lives. We've been waiting for this since we turned 18. This has been like life has come back to normal all of a sudden," said Mollie, 20.
Mark, an estate agent, said he had previously had Covid and was now fully vaccinated. "I want my life back," he said.

Terry George, the owner of Fibre, said many of his customers told him they had not been vaccinated or only had one dose so they would not get in if proof of full vaccination was required. But he also said the government had not provided the tools to scan for vaccination status.
Contact tracing and self-isolation requirements will remain in place as other restrictions end.
UK-wide guidance recommending against travel to amber list countries is also being removed. Adults who have been fully vaccinated in the UK will not have to self-isolate for 10 days after visiting these countries - with the exception of those returning from France to England, Scotland or Wales, because of concerns over the spread of the Beta variant of the virus.
line

'They just wanted to dance'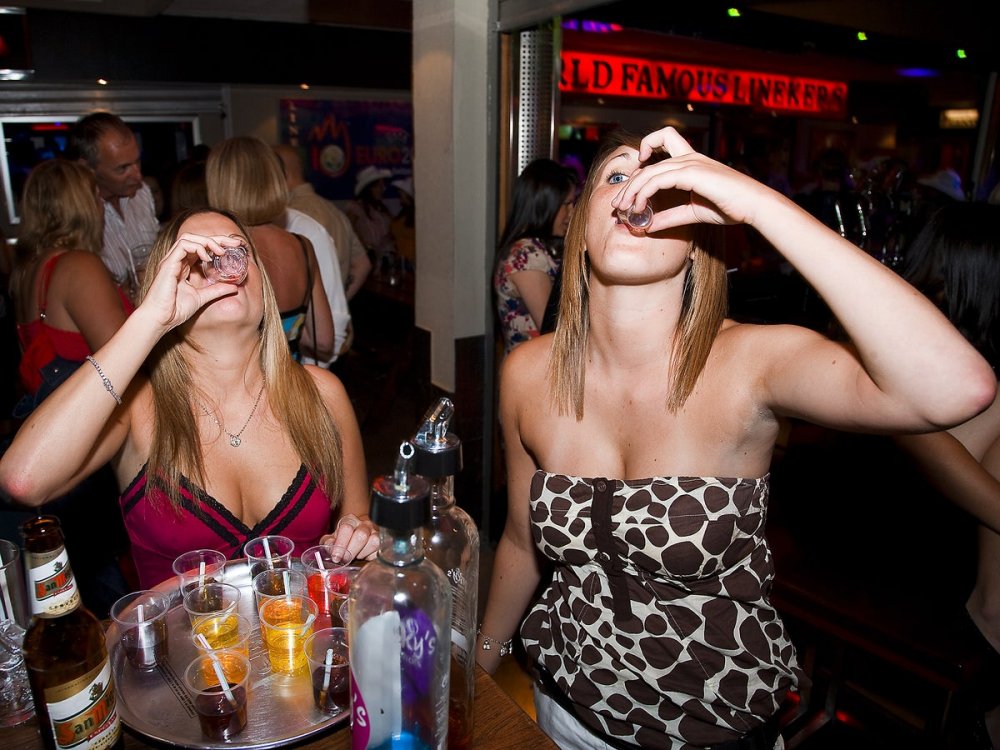 The countdown began, midnight struck, confetti cannons went off and the queue erupted into cheers and screams of joy.Then the doors opened and hundreds of people poured into Fibre - a nightclub in the centre of Leeds. No proof of a negative test required, no Covid passports needed here, just the option of hand sanitiser on the door.It was straight onto the dance floor for most people; arms in the air singing along to the DJ's carefully selected first track - Ultra Nate's Free.No-one was wearing masks and it felt like everything was normal again. No-one wanted to talk about rising cases of coronavirus or the risks - they just wanted to dance. And for the first time in 16 months they could.
line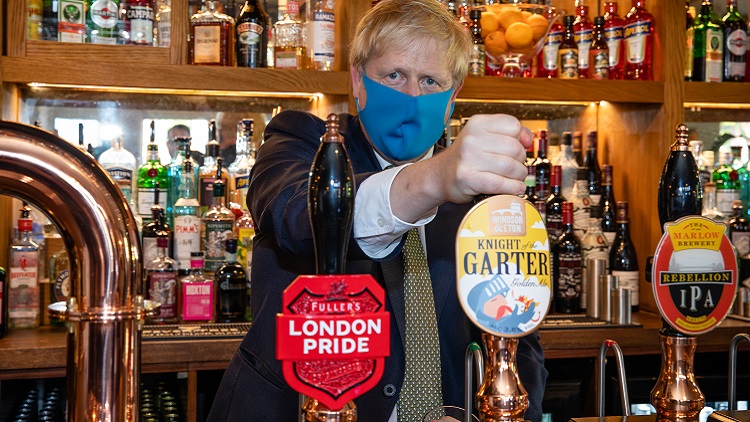 Restrictions are set to be relaxed in Wales on 7 August and in Northern Ireland on 26 July.

Mr Johnson and Chancellor Rishi Sunak are self-isolating after contact with the health secretary, who announced on Saturday that he had tested positive for coronavirus.No 10 initially said they would not have to isolate, as they were taking part in a pilot scheme that involves daily testing instead - sparking a backlash from opposition parties and businesses affected by staff quarantining.Rishi Sunak and Boris Johnson will both be self-isolating on the day restrictions are being eased.The UK recorded a further 48,161 cases and 25 deaths within 28 days of a positive coronavirus test on Sunday. On both Friday and Saturday daily cases exceeded 50,000 - the first time this level has been reached since mid-January.Almost 88% of adults in the UK have had a first dose of a Covid vaccine, and 68.3% are double jabbed, according to the government's coronavirus dashboard.However, the scientist whose modelling led to the first nationwide restrictions has expressed concern that the UK could see as many as 200,000 cases and 2,000 hospital admissions a day.Speaking on the BBC's Andrew Marr Show, Prof Neil Ferguson suggested a peak could occur between August and mid-September.(Hazel Shearing/BBC News)