The purpose of the new Enfield Council campaign is to try and deter people from fly tipping, highlight the cost of clearing rubbish, and to try to change the behaviours of those who continue to illegally fly tip. Enfield Council's Cabinet Member for Environment, Cllr Rick Jewell, visited Lancing Gardens in Edmonton (N9), where the Council receives frequent reports of fly tipping.Cllr Jewell sprayed the first of four stencils on the public highway, using a chalk-based paint that is non-toxic and non-permanent.Cllr Rick Jewell said: "We are committed and determined to provide a cleaner Enfield for our residents, which is why we are finding more ways to be resourceful to help prevent fly tipping in our borough"We know that a greener, cleaner Enfield is a top priority for residents, and the implementation of public highway stencils serves as a polite reminder to everyone to dispose of their waste responsibly. We hope this, along with the Council's other initiatives, will contribute to a reduction in the number of fly tipping incidents in the borough.  "There is never any excuse to fly tip as we offer a free doorstep bulky waste collection service to all of the borough's residents.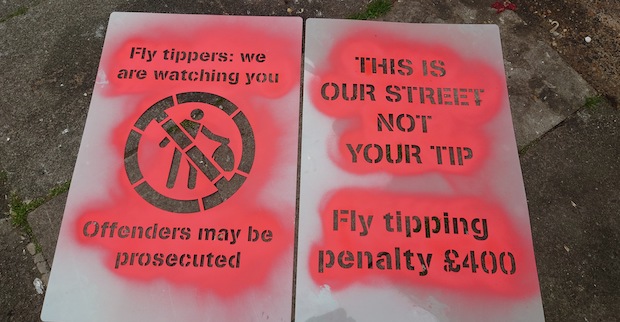 "The messaging on the four stencils to address and to prevent fly tipping in Enfield read:'Fly tippers: We are watching you. Offenders may be prosecuted.'
'This is our street, not your tip. Fly tipping penalty £400.'
'Dumping rubbish here means less £££ for young people.'
'No dumping rubbish.'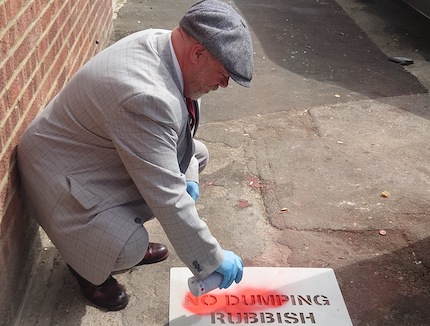 The Council's Waste Enforcement Team will roll out the campaign boroughwide in the coming weeks and will focus on hotspots where rubbish is frequently dumped and reported.  
Fly tipping costs councils and taxpayers thousands of pounds to clear each year, at a time when budgets are being squeezed due to rising prices and inflationary pressures.
Enfield Council offers a free bulky waste collection service. To request a kerbside collection visit: www.enfield.gov.uk/services/rubbish-and-recycling/bulky-rubbish