Pubs and restaurants serving outside can reopen as planned next Monday, along with non-essential shops, gyms and hairdressers, as England's lockdown is further eased, the PM has said. But Boris Johnson urged caution, saying: "We can't be complacent."Officials were examining the potential role of Covid status certificates, he told a Downing Street briefing.Pilot events will take place from mid-April to trial the system, with later events checking vaccinations.Speaking in Downing Street, the prime minister also said the government was "hopeful" international travel could resume in the next stage of lockdown easing on 17 May, but cautioned against the effects of the surge of coronavirus in other parts of the world. He said the government would set out "well before 17 May what is reasonable" and aim to give the aviation industry "as much notice as possible".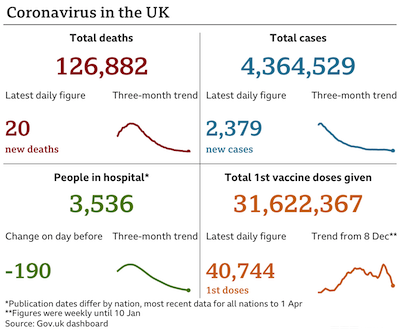 It comes as the government has published an update on a series of reviews into Covid certificates, the safe return of mass events, international travel and social distancing rules.
In the document, the government says it cannot yet confirm international travel can resume on 17 May "given the state of the pandemic abroad", and advises people not to book summer holidays abroad "until the picture is clearer".It also confirms further details on a risk-based "traffic light" system for foreign travel will be published in a report later this week.On Covid status certification, the paper says this could have an important role to play both domestically and internationally and "is likely to become a feature of our lives" while the pandemic continues.A certification scheme could record whether people had been vaccinated, recently tested negative or had natural immunity.
The NHS is working on digital and non-digital ways for individuals to demonstrate their Covid status, according to the government paper, but there were no details on whether this might include using an app.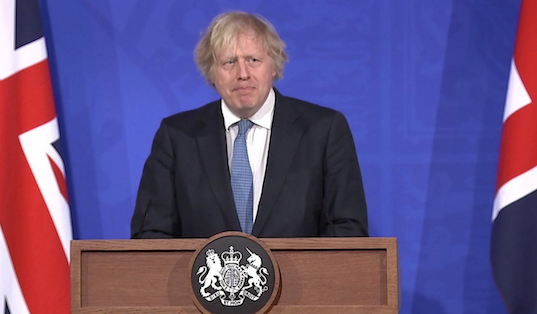 More than 40 Conservative MPs have signed a cross-party letter opposing the use of vaccine passports for access to jobs or services, with critics calling such a move "discriminatory".
Diners enjoy their drinks as they sit at tables outside a restaurant in London on 3 August, 2020
Vaccine passports had managed to "achieve the remarkable political feat of uniting a former Labour leader and a former Conservative leader against them", as he asked the prime minister if there would be a vote in Parliament on their introduction.
Mr Johnson said the question of a Commons vote was "taking too many fences at once", and that the government needs to work out its proposal.
He stressed that certification would not be introduced either for the 12 April lockdown easing or for the planned further changes from 17 May that would see pubs and restaurants serving customers indoors.
But he said "all countries" were looking at vaccination status for international travel, adding: "I do think that's going to be part of the way people deal with it and we need to think about that."
The government's review said that public transport and essential shops and services would never require Covid status certification, but it could play a role in allowing people to return to theatres, nightclubs, and events such as festivals or sports fixtures.
It is also possible that requiring customers to prove their status could "play a role in reducing social distancing requirements in other settings" such as pubs and restaurants, the document states.
The government said this would be considered in consultation with the industry, and that businesses should continue to plan to reopen in line with the latest guidance.
Labour has backed the move to proceed as planned on 12 April, but shadow health minister Justin Madders told the BBC the party had concerns about how vaccine passports could affect "liberties and freedoms".
Meanwhile, Tory former chief whip Mark Harper, leader of the Covid Recovery Group of lockdown-sceptics, has called for Parliament to be given a vote on vaccine passports, warning they would lead to a "two-tier Britain".
And the Confederation of British Industry said firms would need help to navigate "ethical, legal and practical implementation challenges" around status certificates.