Asking adults to wear a mask if they have a respiratory infection and need to go out is sensible, ministers say.Transport Secretary Mark Harper said he fully supported the guidance, issued by the UK Health Security Agency (UKHSA).The advice, in place for months in England, was reiterated by the UKHSA as schools and workplaces return after the Christmas break.It comes amid mounting pressure on the NHS, partly driven by high rates of Covid and flu.Mr Harper said he recognised staff were under "tremendous pressure" and the government had offered more resources to the NHS and social care to help services cope.

This includes a £500m winter fund targeted at helping hospitals discharge patients who are medically fit to leave but cannot because of a lack of support available in the community.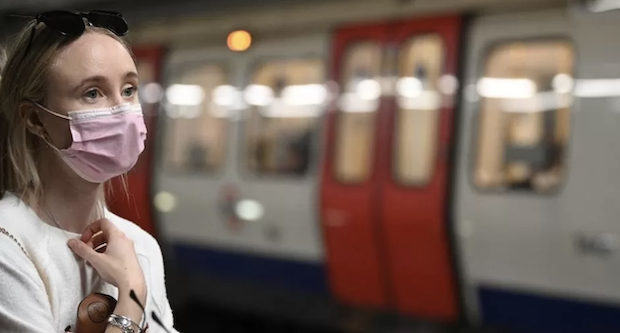 "I hope these resources are going to help in the coming months to relieve some of the pressure on our hard-worked health and care staff," Mr Harper said.
Winter set to be worst for A&E, health leaders warn.Pressure on the NHS is unsustainable, medics warn.It was "sensible" to ask ill adults to wear masks if needed to go out, he said, but best to stay home if possible.The UKHSA has also asked parents to keep children off school if they have a fever.
There have been sharp rises in the numbers of people in hospital with Covid and flu in recent weeks - about one in eight beds in England is now occupied by patients with these infections.
Senior doctors have described the NHS as on a knife edge, with some accident and emergency units in a "complete state of crisis".
In recent days, a number of hospitals have declared critical incidents, suggesting they cannot function as usual because of extraordinary pressure.
Labour criticised the government's management of the health service, while the Liberal Democrats called for Parliament to be recalled early.
MPs are due back at Westminster next Monday, following their Christmas break.
Prof Phil Banfield, who chairs the British Medical Association, which represents doctors, called on the government to "step up and take immediate action".
The situation was "intolerable and unsustainable", he said, with the NHS's survival on a knife edge and patients needlessly dying because of a political choice.