The 9th of November 2020 marked the 10th anniversary of Yunus Emre Enstitüsü - London and what an incredible ten years it has been. Yunus Emre Enstitüsü - London 's mission from day one has been to promote the Turkish language and culture, and create a positive platform for intellectual, artistic and cultural exchanges. Inspired by the life and words of thirteenth century Turkish poet Yunus Emre, whom they are named after, the central tenet of our work is to foster mutual respect and understanding. The decade has seen many social and political changes and challenges around the world; which lens their view these events through will determine our perceptions. The Institute regularly facilitates academic, artistic and cultural exchanges where diverse audiences can experience the ideas and cultures of others, including lesser-heard voices. We believe such exchanges are vital in creating common goals, values, and partnerships with reciprocal benefits. 
To rejoice and celebrate our 10th year, Yunus Emre Enstitüsü - London will be having a giveaway and great offers for our students and followers.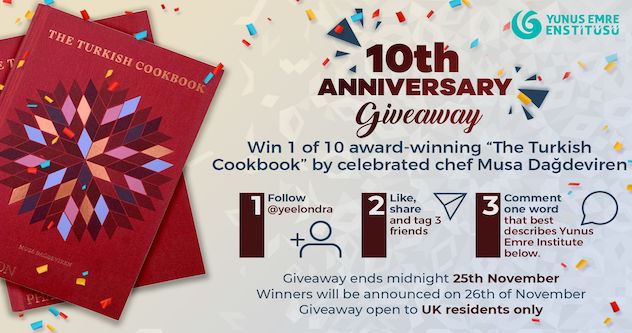 The celebration has started with the giveaway of "The Turkish Cookbook" by acclaimed Chef Musa Dagdeviren, and will continue with other offers and gifts. They will also be sharing snapshots of their many events, talks and projects on our social media pages to commemorate the many works the Yunus Emre Enstitüsü - London team have been involved with throughout its first ten years. 
Yunus Emre Enstitüsü - London, Dr Mehmet Karakus, Director said: "We look forward to a new decade of shared experiences and opportunities, and wish you and your family good health during these uncertain times."

Upcoming announcements @yeelondra …

For the adults – Our first giveaway has been announced. Head over to our Instagram, Twitter or Facebook account for a chance to win "The Turkish Cookbook" by Chef Musa Dagdeviren from Netflix's 'Chef's Table'. An award-winning cookbook bringing you traditional and untouched recipes from all regions of Turkey. 
For the kids – Our next giveaway will be for our younger audience. Parents, keep an eye out for a chance to grab Karagöz & Hacivat activity books to keep the kids occupied over the weekend.
New & old students – Receive 20% off our A1.1 Turkish courses* and all arts courses. Offer ends 31/12/2020. New courses will be announced soon, and can be purchase online.