The first is Angel Edmonton, where a wide range of works over the last three years have transformed the area including the refurbishment of the library, a new cleaner air route, the conversion of 35 derelict garages into modern workspaces for young business people, and public art in and around Fore Street, all supported by Enfield Council and the Mayor of London's Good Growth Fund. The second is Bloqs, a professional makerspace that has become the hallmark of excellence in Europe. Their open-access workshops sit beside Meridian Water, one of London's largest regeneration projects which is also an Enfield Council development.    Running UK-wide to 17 September, Open House Festival provides the opportunity to visit locations and buildings that are often closed to public view, encouraging audiences to explore new neighbourhoods and architecture. Enfield's participation in the Open House Festival is kindly supported by The Enfield Society.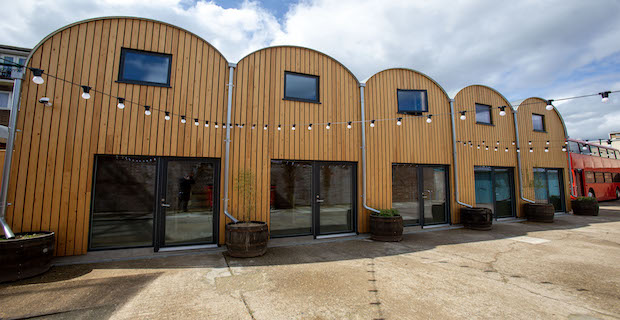 Joining the illustrious list of Enfield locations are:
All Saints Church, Edmonton, N9
Christ Church Southgate and Minchenden Oak Garden, N14
Forty Hall Cellars, EN2 - the first time the cellars have been open to the public
Friends Meeting House and Burial Ground, Winchmore Hill, N21
King George V Pumping Station, EN3
Lavender Hill Chapel, EN2
Royal Small Arms Factory, EN3
St Mary Magdalene Church, EN2

The locations are joined by the theme of Enfield's industrial past, present and future. This theme is being explored over the next nine months in the Festival of Industry with a series of performances, workshops and exhibitions. Enfield has a very close connection with industry which has informed its architecture, infrastructure and communities over hundreds of years.
As part of the Open House celebrations, Angel Yard will mark its official completion with a ceremony on 16 September from 4pm. Jan Kattein Architects will also host guided tours of the Angel Edmonton area which have benefitted from the £1.1 million Good Growth funding, match funded by Enfield Council.
Elsewhere, Bloqs, will host a weekend of activity with workshop tours and an exhibition of their members' work. Inclusive theatre company Chickenshed will debut their new musical theatre piece, 'Wooly Mammoths of Enfield'. Fore Street Library will explore the theme Faith in Industry.
 
There are many more activities across all the sites. Visitors are encouraged to visit the Open House Festival website for more information. Go to the Openhouse Calendar and select 'Enfield'.
 
Enfield's Festival of Industry will continue to be celebrated beyond the Open House Festival, all the way to March 2024. Keep up to date with what's on at Dugdale Arts Centre's website. The Festival of Industry is funded by the Arts Council's Place Partnership initiative. - Ends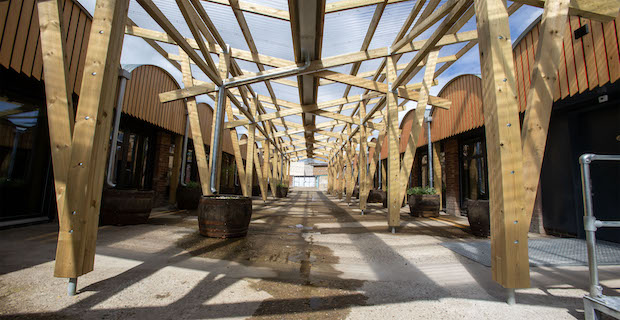 About Angel Edmonton and Good Growth Fund
Fore Street in the heart of Angel Edmonton is a dynamic local town centre but one that has also suffered from high levels of deprivation, crime and a shortage of job opportunities.
Enfield Council secured £2.2 million in funding from the Mayor of London to improve spaces along and around Fore Street. These have now completed. They are:
Upgrading the existing library into Fore Street's Living Room Library, supporting a range of additional community and cultural activities
Transforming existing underused garages into affordable workspaces
New street furniture and artwork to the public realm along Fore Street and in key alleyways
A clean air route which will include improved air quality outside St. John & St. James Primary School
For more information, visit https://letstalk.enfield.gov.uk/good-growth-fund The project has been delivered by Enfield Council's Journeys and Places team.
About the Festival of Industry
Festival of Industry is a blockbuster cultural and capacity building programme funded by the Arts Council's Place Partnership initiative. The Festival of Industry programme celebrates Enfield's industrial heritage and explores its future industrial identity through specialist art commissions, participatory workshops, open studios, exhibitions, public artworks, and an immersive museum project and community theatre co-produced with local people.
https://www.dugdaleartscentre.co.uk/whats-on/festival-of-industry
About Open House Festival
Open House Festival is a two-week celebration of London's homes, architecture and neighbourhoods. You can get inside some of London's best known buildings, as well as some of its best kept secrets. Find out more: https://open-city.org.uk/open-house-festival-2023