AVRUPA TIMES/LONDON-A concert in London to celebrate the 100th Anniversary of the Republic of Türkiye. The concert will take place at St James`s Church Sussex Gardens on Friday, 1 December. VIP Drinks Reception starts at 17:00 and Concert at 19:00. Guest of Honour, Gulsin Onay – piano, will perform Chopin at the beginning of the concert. Following performances will be given by other 5 very talented and successful young Turkish classical music musicians. If we have full house, we will be able to support more young Musicians with their education with every ticket purchase.

Honour Guest: GULSIN ONAY- Piano  Musicians:  ERDEM MISIRLIOGLU - Piano / EMRE ENGIN - Violin /  NAZLI ERDOGAN - Viola / OZGUR KAYA - Cello / EZO DEM SARICI - Violin
 
Arzu Guler from sectoral events said: "Our last concert was organised together with Talent Unlimited which is a London based Classical Music Charity. Please watch the video from this beautiful concert. We managed to raise a fund after the concert costs and gave exposure to the musicians of Talent Unlimited. Hopefully, we will be able support music students again with this concert. You can support us by buying a ticket and join us to enjoy this amazing concert. Please find our poster in the attachment. We would be most grateful if you could pass it to your contacts".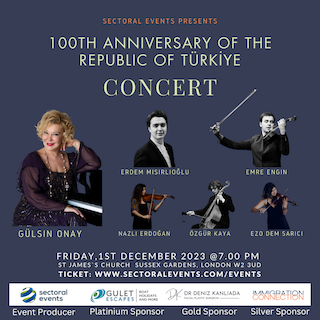 Concert sponsors: Gulet Escapes @guletescapes  Dr Deniz Kanliada @dr_denizkanliada Immigration Connection @immigrationconnectionltd. 01 Dec, 19:00 GMT
London, St James`s Church Sussex Gardens, Paddington W2 3UD, UK This concert organised by Sectoral Events to celebrate 100th Anniversary of the Republic of Türkiye
Programme:

I.Part: 45 minutes

Chopin Andante Spianato et Grande Polonaise Brillante opus 22 - Gulsin Onay
Brahms B Major piano trio 1st movement - Erdem, Emre, Özgür
Dvorak Quintet 1st movement - Erdem, Emre, Ezo, Nazli, Özgür
Intermission: 15 minutes

II.Part : 30 minutes

Sari Gelin - Emre, Erdem
Bülbülum Altin Kafeste - Emre, Erdem
Horon - Ezo, Erdem
Nihavend Longa - Erdem, Emre, Ezo, Nazli, Özgür

Tickets: £40 VIP / £30 Standard / £15 Student (providing student ID)
Date: Friday, 1st December 2023
Time: 19:00 (please arrive by 18:30 for the registration)
Address: St JAMES`S CHURCH
SUSSEX GARDENS PADDINGTON W2 3UD
Drink Reception between 17:00-18:30 at the same church (only for VIP Ticket Holders )