Embark on a Cultural Odyssey with Yunus Emre Institute London in June Yunus Emre Institute London is thrilled to announce a engaging series of cultural events taking place in June, offering an array of enriching experiences that celebrate the interaction of diverse cultures. Prepare to be impressed by a lineup of extraordinary events that showcase the beauty and depth of artistic expressions, thought-provoking discussions, and inspiring stories. The journey will commence with ''Infused with Turkish Spirituality: A New Traditional Japanese Culture'', an exclusive Japanese tea ceremony event that will feature Dr Qayyim Naoki Yamamoto, a distinguished scholar and expert in Ottoman Sufism and traditional Japanese culture. Dr Yamamoto will delve into the creation of a new traditional Japanese culture inspired by Turkish spirituality, unravelling the intricate connections that intertwine these two remarkable worlds. This fascinating event, scheduled for Tuesday, 20th June, at 7 pm, will take place at Yunus Emre Institute London. Participants will have the unique opportunity to witness a traditional Japanese tea ceremony and partake in a matcha tea tasting, immersing themselves in the fascinating fusion of these cultures. Continuing the journey, prepare to be moved by the captivating film screening of "A Piece of Grain" (Buğday Tanesi) on 21st June 2023. This remarkable film portrays the inspiring journey of MP Serkan Bayram, who, despite the tragic loss of his hands, emerged as a triumphant symbol of resilience and a passionate advocate for disability rights. The screening will take place at The Wilson Room, Portcullis House, Palace of Westminster, ensuring an immersive experience that will leave a lasting impact. English subtitles will be provided to ensure accessibility for all, allowing the powerful messages of the film to resonate deeply. Following the screening, there will be a special Q&A session with Serkan Bayram, moderated by MP Yasmin Qureshi. Gain deeper insights into the film's creation, real-life inspirations, and its broader themes. Engage in a meaningful conversation with Serkan Bayram, discussing the film, its message, and ongoing efforts for disability rights and inclusion.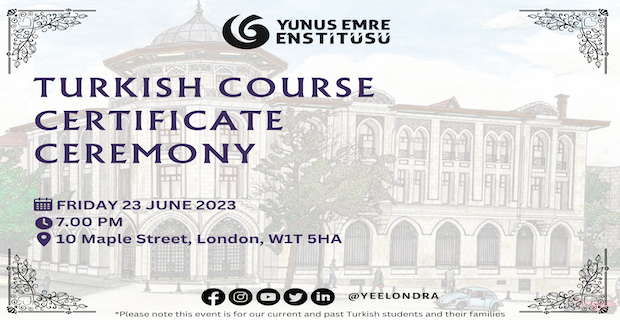 Directed by Doğan Ümit Karaca, this critically acclaimed film has garnered international recognition and received numerous prestigious awards, affirming its exceptional quality and impact. "A Piece of Grain" was honoured with the distinguished "Best Social Responsibility Project Film of the Year" award at the Paris Moon Life Award Ceremony. Furthermore, the film's significant contributions were further acknowledged when it was selected to be screened during the 23rd Frankfurt Turkish Film Festival as a corporate social responsibility project. This selection exemplifies the film's dedication to raising awareness about important social issues and promoting inclusivity as part of its core values.

Lastly, mark your calendars for the highly anticipated Turkish Certificate Ceremony, exclusive for the current Turkish students and their families, scheduled to take place on the 23rd of June and is a grand finale to celebrate the remarkable achievements of our dedicated learners throughout the 2022-2023 academic year. This momentous occasion will honour the accomplishments of individuals who have successfully completed Turkish language courses, symbolizing their unwavering commitment and enthusiasm for embracing the rich tapestry of Turkish culture and language. The evening promises to be a memorable experience, featuring interesting talks by distinguished guests, awe-inspiring performances by talented students, and a delectable array of authentic Turkish cuisine to tantalize your taste buds. Be sure not to miss this extraordinary celebration of language, culture, and the remarkable achievements of our dedicated learners.
Don't miss this extraordinary series of events, which promises to ignite your senses, broaden your horizons, and leave you with lasting memories. From the captivating discourse on creating a new traditional Japanese culture inspired by Turkish spirituality to the powerful film screening that shines a light on the triumph of the human spirit, and the upcoming Turkish Certificate Ceremony that celebrates language and cultural achievements, each event offers a unique opportunity for discovery, connection, and celebration.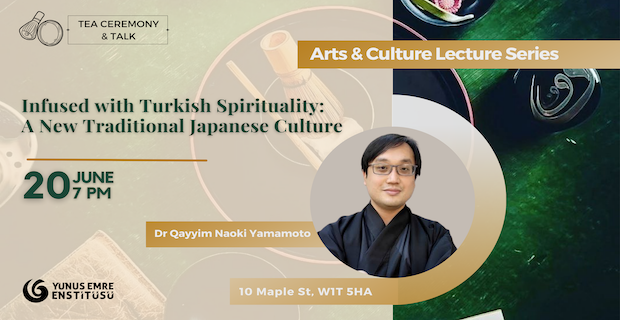 "Infused with Turkish Spirituality: A New Traditional Japanese Culture''  
 
Date: 20 June 2023  
Time: 19:00 
Location: Yunus Emre Institute London
10 Maple Street London W1T 5HA  
Registration link: https://InfusedwithTurkishSpirituality.eventbrite.co.uk  
 
 
Film Screening: "A Piece Of Grain" (Buğday Tanesi)  
Dat: 21 June 2023   Time: 18:00 
Location: The Wilson Room, Portcullis House, 1 Victoria Embankment, London SW1A 2JR 
Registration link: https://apieceofgrain.eventbrite.co.uk 

For more information about Yunus Emre Institute London and its other events, please visit the Institute's website https://yeelondon.org.uk/ or follow @yeelondra on social media platforms. 
Yunus Emre Institute London 

Yunus Emre Institute (Turkish: Yunus Emre Enstitüsü) was established as a foundation in 2007 and started operating in 2009 with the aims of increasing awareness of Turkish culture, supporting the learning of the Turkish language and stimulating greater exchange in the fields of arts, culture, science and education. The Institute, named after the famous 13th century Poet Yunus Emre, has 83 branches around the world. The London branch, located in Maple Street, Fitzrovia, houses an extensive library that is open to students and academics, and it regularly holds an array of classes and events to teach and promote traditional and contemporary Turkish art and Turkish culture. Since opening its doors in London in 2010, Yunus Emre Institute London has become an important centre in cultural exchange, while simultaneously improving the bonds of friendship between Türkiye and the United Kingdom.