Over 100 film and TV workers assembled at London's Leicester Square in support of the SAG-AFTRA strike and to urge the Alliance of Motion Picture and Television Producers (AMPTP) in the US to reach a fair deal with the striking actors.The demonstration brought together members from creative industries union Bectu, as well as the Trade Union Congress and actors' union Equity.It is the second demonstration in two days that has been held in central London to highlight the plight of below-the-line UK film and TV industry workers in the wake of the strikes. The first was a grassroots demonstration held yesterday at the BFI London Film Festival's opening night ceremony.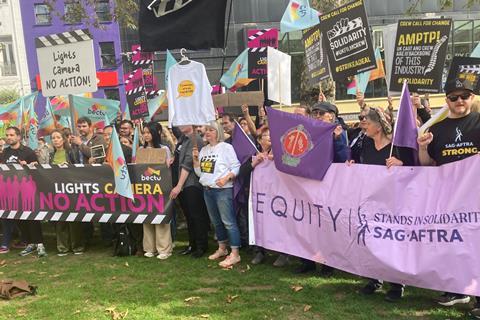 It has been worst time for entertainment industry since COVID-19 pandemic, but this time there is zero support, says union official

Protest held in London to call for support for entertainment industry Members of Bectu (Broadcasting, Entertainment, Cinematograph and Theatre Union) organize a demonstration demanding the Alliance of Motion Picture and Television Producers (AMPTP) in the US to negotiate a quick resolution for the ongoing actors' strike, at Leicester Square in London, United Kingdom on October 05, 2023. ( Rasid Necati Aslim - Anadolu Agency )Workers from Britain's entertainment industry held a demonstration Thursday in London calling for support and better conditions.Gathering in central Leicester Square, dozens of people from various unions, including the Broadcasting, Entertainment, Communications and Theatre Union (Bectu), showed solidarity with their colleagues in the US.The rally came amid an ongoing dispute between the Alliance of Motion Picture and Television Producers (AMPTP) and the Screen Actors Guild and American Federation of Television and Radio Artists (SAG-AFTRA).The participants expressed their concern over the situation in the US, saying there is a need to support the industry not only from employers but also from the government.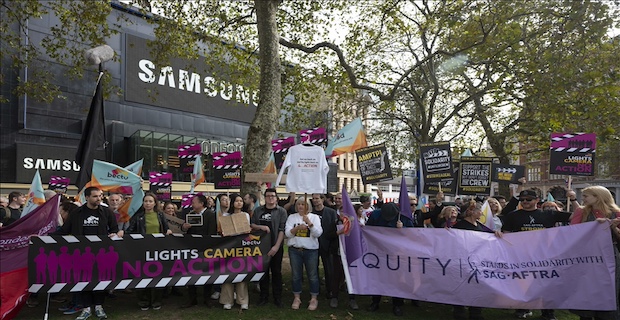 Speaking at the rally, Charlotte Sewell from Bectu said they support the writers and actors in their "fight for basic rights and protection."Touching on the difficulties the industry faces, Sewell noted that it has been the worst time for them since the COVID-19 pandemic."But this time there has been zero support," she said, adding that conditions must be improved."We know we have to protect ourselves, our jobs, our departments. We are precious, and without us, shows simply do not go on."
Blair Barnette, who chairs the British Film Designer's Guild, said that 30% of their members are considering leaving the industry.
She noted that the impact of current conditions on industry members' mental health and well-being is "huge," adding she had learned today that two of her colleagues have lost their homes."We appealing for our government and the media to recognize and support (us)," she added.