An award-winning selection of Turkish cinema will make way to your screen between Monday 25th January and Saturday 30th January. Amongst the films to be screened, some have appeared and received awards from many great festivals including; Istanbul Film Festival, Busan International Short Film Festival, Akbank Short Film Festival, London Film Festival, Raindance Film Festival, Warsaw Film Festival, Next Generation Short Tiger, Indy Shorts International Short Film Festival, Leeds International Film Festival.
With an aim to introduce new voices alongside better-known names, as well as open doors to the wonders of Turkish cinema, we welcome all cinephiles. Films will vary in length, between 4 and 20 minutes, and topic, from unspoken injustices ("Interstate 8" by Anne Thieme on Wednesday 27th January) to bitcoin trading racoons ("Racoon with Bitcoin" by Serdar Çotuk on Friday 30th January).
 
Please find the festival programme below, and book your free pass by visiting yeecinema.eventive.org.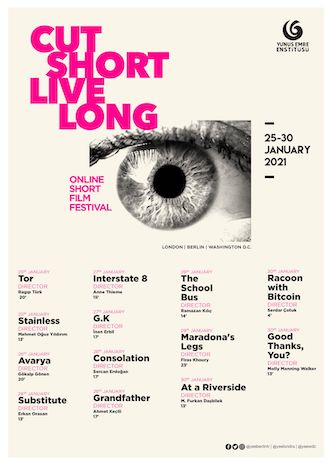 All films will be screened with English subtitles.
***The short films can only be viewed in Germany, United Kingdom of Great Britain and Northern Ireland, United States of America.