The new School Streets were launched on Monday 27 March at Houndsfield Primary School, Hazelwood Primary School and Wilbury Primary School.School Streets are temporary road closures outside of school gates at pick up and drop off times which prevent motor traffic from entering the area.The road closures, part of the Council's Journeys and Places programme, aim to encourage more Enfield pupils to walk, cycle and scoot to school safely.The schemes also reduce emissions from motor vehicles near the school gate, so the air quality is improved around schools in hotspots of poor air quality. The Council is taking ambitious action now by pushing forward with its Climate Action Plan objectives, with headline targets to be a carbon neutral organisation by 2030 and for the borough to be carbon neutral by 2040.The new School Streets were chosen after the Council took guidance from the Enfield Poverty and Equality Commission and focused largely in the east of the borough, which is disproportionally impacted by poverty and poor air quality. 
Enfield Council's Cabinet Member for Environment, Cllr Rick Jewell, said: "I am pleased that the Council has added a further three School Streets, where they are needed the most in the borough.
"School Streets help create a safe environment for primary school children travelling to and from school, so they are a very welcome addition.
 
"We will continue to communicate and work closely with parents and the schools involved by communicating with them, along with nearby residents as we progress the schemes in the near future.
 
"We continue to make the roads near school gates safer and less polluted for our children, by fighting climate change in our borough."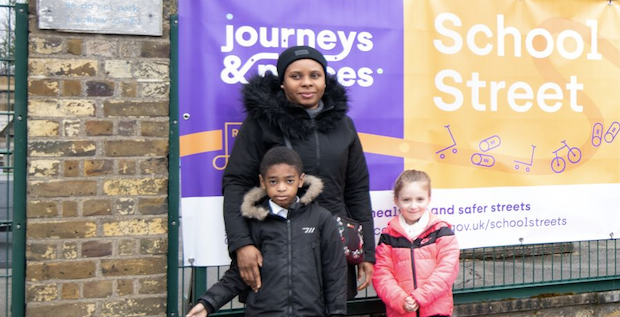 The three new School Streets and their hours of operation are: 
Hazelwood Primary School - 8.15am to 9.15am and 2.45pm to 3.45pm.
Houndsfield Primary School - 8.30am to 9.30am and 2.45pm to 3.45pm.
Wilbury Primary School - 8.30am to 9.15am and 2.45pm to 3.30pm.
The new School Streets are enforced by an Automatic Number Plate Recognition (ANPR), camera operated system. Residents living within the School Street zones are eligible for an exemption from the restrictions.
The Council is committed to introducing more School Streets across the borough, and two more will be introduced shortly to St James' Church of England Primary School and St Mary's Catholic Primary School.
For further information on School Streets visit: https://letstalk.enfield.gov.uk/SchoolStreets