Islington students have posted stronger results in their GCSE and other Key Stage 4 qualifications this year compared to 2019, despite the disruption and challenges the pandemic caused to their studies.The provisional borough-level results this year indicate 65.1% of pupils achieved a grade 4 or above in English and maths – two percentage points higher than in 2019 – while 46.8% of pupils achieved a 5 or above, an increase of seven percentage points. Meanwhile, the Attainment 8 score – the measure of achievement across the eight key subjects – is 46.0, an increase of 0.3 compared to 2019.The Department for Education confirmed a return to pre-pandemic grading in 2023, with some protection against the impact of disruption due to the pandemic, so this year's grades are best compared with those achieved in 2019. Despite this, many students still faced challenges during the last two years due to the pandemic. Teachers and support staff in schools, as well as parents and carers, have been helping students to stay focused and on-track through these uncertain periods.
Council Leader Cllr Kaya Comer-Schwartz visited Highbury Fields School to personally congratulate the students, while Cllr Michelline Safi-Ngongo, Executive Member for Children, Young People and Families, did the same at Beacon High School.
Cllr Safi-Ngongo said: "Congratulations to every one of our students, who have all shown such spirit and determination to take on the uncertainty and challenges of the pandemic. They should all be extremely proud of their achievements – along with everyone who has helped and believed in them throughout, from teachers and parents to friends and students' wider support networks.
"Ensuring a great education for all young people in Islington is central to our commitment to give them the best possible start in life. I was delighted to share in their well-earned celebrations today, and wish them well in their next steps!"
Among the students collecting their grades at Highbury Fields School this morning was LeSharé, who is heading to William Morris Sixth Form in west London to study art, media and psychology at A Level.
"It was hard in the beginning," she said, "but the school's been great. It's about being proud of how far you've come. I'm looking to go into something creative. These past couple of years I really liked fine art but with AI I don't think that's going to even be a job, so I'm looking at other options.
"I worked really hard and I wasn't really studying in the right way, so I wasn't getting the grades I wanted. It took me some time to figure out, but it was an opportunity to learn about academics and being proud of how far you've come anyway, even if you don't get the top results. The teachers here are lovely, it's a lovely community, a lovely school."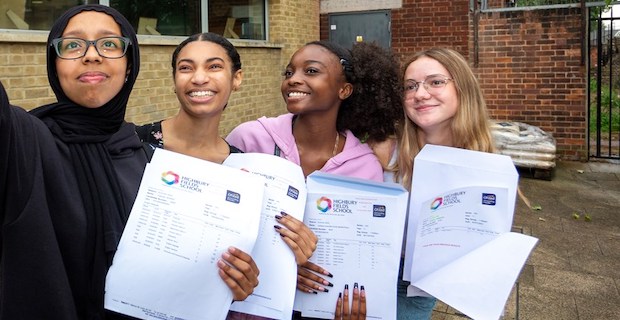 Maddie started this year with a predicted grade 4 in maths, yet today celebrated with a grade 7, after studying at every opportunity, including lunchtimes and after school, with support from her teachers. "I was overwhelmed, just so happy," she said. "My teacher had faith in me and believed in me and gave me confidence to do it." Maddie's now due to take A Levels in sociology, economics and Spanish at St Mary Magdalene Academy with an eye on a degree in law after that.
Fellow student Pronali is now enrolled at London Academy of Excellence Tottenham to study biochemistry, maths and geography after securing a crop of top grades – three 9s, four 8s and a 7. Over the moon, she said: "I was hoping for all of this. I'm really excited, I've wanted to go to this school for so long!"
At Beacon High School, Prabhleen was celebrating a brace of good grades having arrived in the UK from Afghanistan only last August, joining the school at the end of October. She is now looking forward to a career in medicine or medical research, heading to Sir George Monoux College to study A Levels in biology, chemistry and maths.
"In Afghanistan I did home-schooling, so I didn't have the environment of a school," she said. "It was nice studying in a school, being with friends and stuff. I feel like the teachers have helped me a lot from Day One, and been really sweet."
Fellow student Giovanni was pleased that his grades will allow him to keep chasing his dream of being an airline pilot with British Airways. "The teachers here are great," he said, "I'm going to miss them". He added: "I had a Plan A, Plan B and Plan C, but I've done what I was aiming for, so I'm really pleased." Giovanni is going to study for a BTEC in aerospace engineering at Harlow College.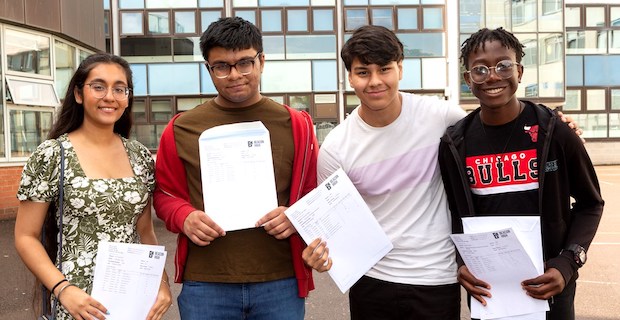 Meanwhile, Yaseem said he "did expect some disappointment" but screamed when he opened his results to find he had got the grades he needed to study computer science, English literature and business at the UCL Academy Sixth Form.
Daniel is following his dad's footsteps into software engineering after doing better than he expected, gaining a grade 8 in maths and 5 in computer science. He has enrolled at Ada, the National College for Digital Skills, to study an A Level in maths and a BTEC in computer science.
"For the past year I didn't really get these grades, I was getting 4s and 5s, so I was about to drop to foundation [class]," he said. "But I ended up staying in higher, and I'm pleased I did because I achieved the grade I wanted."
For students unsure of their next steps, the council's team of friendly career advisors are standing by to offer practical support, advice and information to help secure a sixth form place at school or college, a training course or a job opportunity.
Students can get in touch with the Progress Team of advisors throughout the summer by phone, email, and in person. The Progress Team can be contacted at [email protected] or on 020 7527 7031.