Japan kicked off its celebration of the 2019 Year of Turkish Culture on Tuesday with an exhibition in the capital Tokyo.
Turkish Culture and Tourism Minister Mehmet Nuri Ersoy inaugurated the event, titled "Treasures and Tradition of the Tulip in the Ottoman Empire", which was attended by Japanese Princess Akiko Mikasa and local businesspeople.
Ersoy said the friendship between Japan and Turkey started 130 years ago with the Ertugrul frigate incident and added the exhibition is an opportunity for the two nations to get to know each other better.
The bond was formed during the Ottoman era, when the Ertugrul frigate sank off the coast of Japan after hitting rocks while on its way back to Istanbul from a goodwill visit to the country in 1890.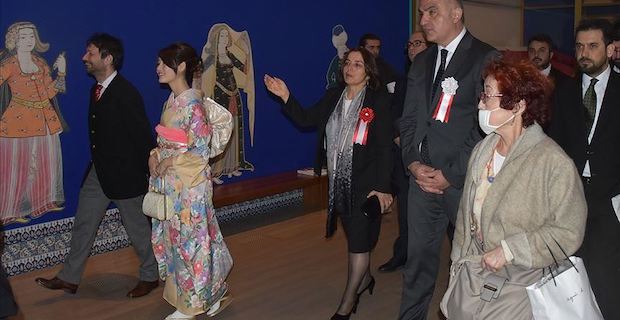 Nearly 600 Turkish sailors lost their lives, but Japan's rescue efforts and the support shown to survivors sealed the friendly ties between the peoples of both nations.
The story of the Ertugrul frigate is considered the starting point of relations between the Turks and Japanese.
"The tulip, the indispensable flower of the gardens of Istanbul from the Ottoman Empire to the present day, played a major role in the expression of emotions in literature as well as in ornaments and handicrafts," Ersoy said. 
"The tulips sent from Anatolia to Europe are presented to our Japanese friends, who care about nature and elegance, with examples [of the flower] embroidered [in fabric and works of art] through our cultural heritage."
He added that the 2019 Year of Turkish Culture, which will be observed throughout the year in Japan within the scope of cultural and artistic events, will recall once more the solid friendship between Turkey and Japan and serve as opportunities to plan their future in this regard.
More than 185 works of art from the Topkapi, Dolmabahce and Yildiz palaces in Istanbul will be exhibited in Japan.
The exhibition will be held at Tokyo's National Art Center until May 20 and at Kyoto's National Museum of Modern Art between July 14 and June 28.