Council of Turkish Cypriot Associations in Britain (CTCA UK), will hold their third Turkish Cypriot Cultural Festival on Sunday, June 30 at Enfield Playing Fields, Donkey Lane. The event will once again bring together the Turkish Cypriot community to celebrate and share their culture with local people.
This year's festival promises to be bigger and better hosting the finest traditional and contemporary music, outstanding folk dancing displays by Turkish schools, mouth-watering Turkish Cypriot food, an exciting range of stalls from arts and crafts to children's entertainment activities such as funfair and donkey rides.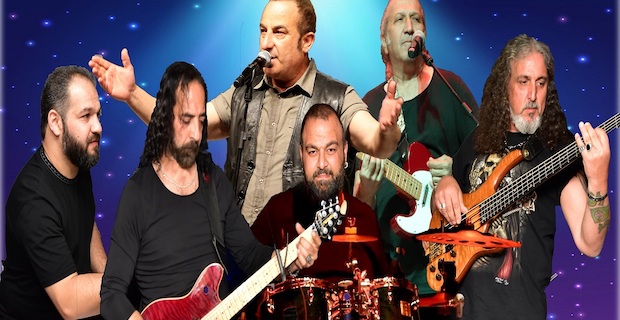 There will be performances from the legendary rock band SOS, who will be returning for the third year, other acts include from Turkey's The Voice (O Ses) finalist Ibrahim Şevki, Osman Tuğsal, Grup Hatıralar with Fadıl Topaloğlu, Peri Aziz, Yiğit Çıtak and Yasemin Nafi. There will also be a parody show written and performed by Osman Balıkçıoğlu.
The amazing Mid Summer Ball will also feature at the festival with the performance of twenty famous Turkish Cypriot musicians including DJ Ramsey, Havva from X Factor, DJ Fen, J Junior, Mr Jones and DJ Erenwith special guest appearance from actor Tamer Hassan.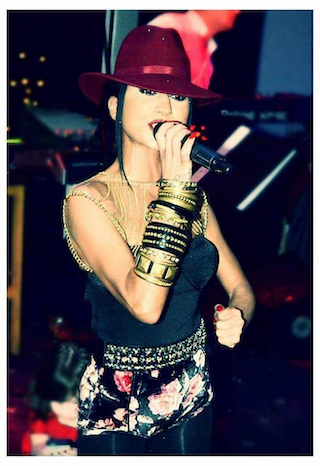 For supercar enthusiasts there will be a display of high-end luxury cars including Ferraris, Porches, and Lamborghinis available for that perfect Instagram photo.
Past festivals have been oversubscribed, to avoid disappointment on the day entry tickets and car park tickets are available to buy in advance online. There is also a special delivery service for disabled and elderly people who would like to purchase their tickets. The car park will have reserved areas for disabled drivers and there will also be special entry for disabled festival goers. Please bring your disability card with you.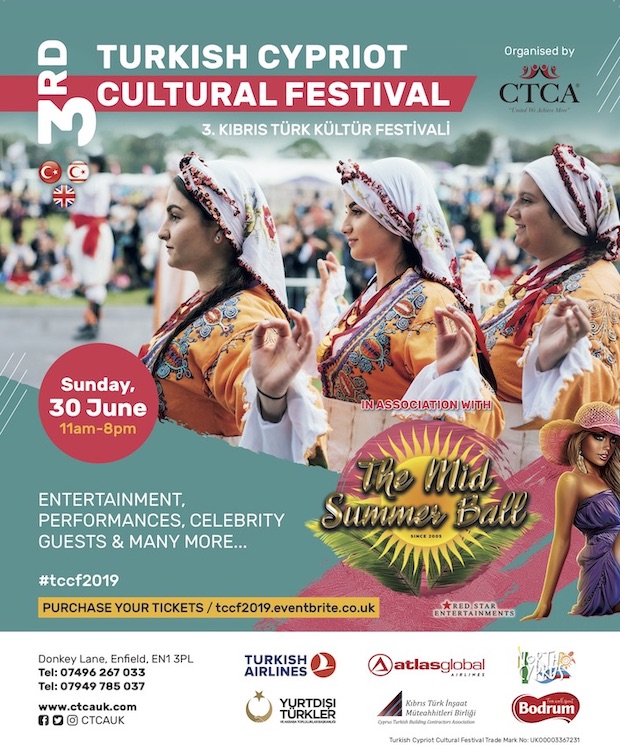 CTCA is organising this year's festival with its 28 member associations and UK Turkish Language Culture and Education Consortium.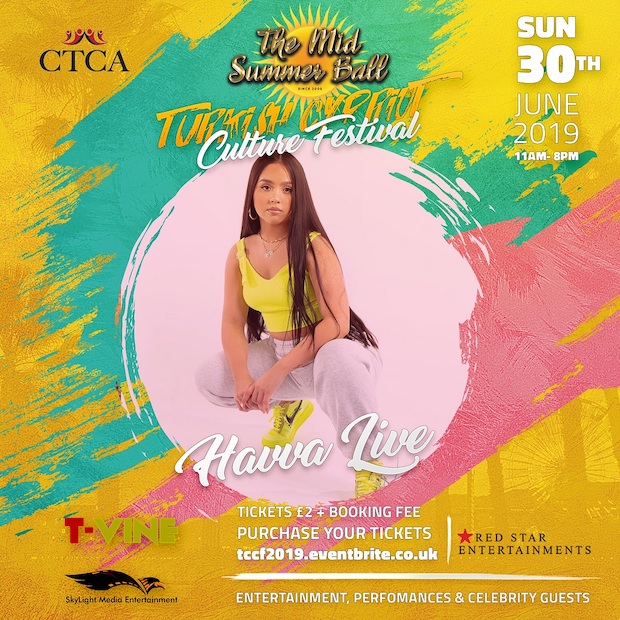 EVENT DETAILS:
Name: 3rd Turkish Cypriot Cultural Festival
Date: Sunday, 30 June 2019
Time:11am-8pm
Venue:Enfield Playing Fields, Donkey Lane, Enfield EN1 3PL
Information: www.ctcauk.com
Contact:[email protected]
Admission: £2
Online tickets: http://tccf2019.eventbrite.co.uk
Print tickets:
North London:
ADPL LLP, 293 Green Lanes, Palmers Green, N13 4XS
ESL Insurance Services, 271Agreen Lanes, Palmers Green, N13 4XE
Ukay Catering, Unit18, Forest Business Park, Argall Avenue, Leyton, E10 7FB
TWPA (only Fridays), 4 Willoughby Road, Hornsey, London N8 0HR
Ali Rıza Değirmencioğlu Türk Okulu(only Saturdays), St Thomas More School, Glendale Avenue, Wood Green N22 5HN
Hornsey Atatürk Türk Okulu (only Sundays), Hornsey Girls School, Inderwick Rd, N8 9JF
Southgate Atatürk Türk Okulu (only Fridays),Southgate School, Sussex Way, Cockfosters, EN4 0BL
Waltham Forest Türk Okulu (only Saturdays), Lammas School and Sports College. 150 Seymour Road. Leyton, E10 7LX
South London:
MKS Accountants, The Fold,114 Station Road,Sidcup, Kent,DA15 7AE
Dr. Fazıl Küçük Türk Okulu (only Saturdays), Conisborough Crescent, Catford, London SE6 2SE