Moments ago in London, Banksy's derisive portrayal of The House of Commons reduced to an assembly of parliamentary primates achieved a record £9,879,500 / $12,142,893 / €11,127,304 in Sotheby's Contemporary Art Evening Auction (est. £1.5-2 million). The hammer came down after thirteen minutes of competitive bidding, with ten determined collectors driving the price well beyond the previous record of $1.8m. Spanning an impressive thirteen feet, this is the largest known canvas by the anonymous street artist whose subversive practice has granted him a reputation of infamy as much as world renown.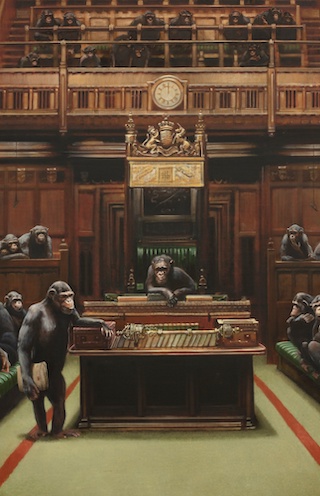 Banksy first unveiled the painting, then titled Question Time, a decade ago as part of his ground-breaking Banksy vs. Bristol Museum exhibition, which famously drew over 300,000 visitors to become one of the world's top ten most-visited shows of 2019. The painting has since been reworked by the artist and more recently retitled. Once glowing, the Commons' lamps have been snuffed-out by Banksy, while the upturned banana of an ape in the foreground now faces downwards; in addition to these and other subtle adjustments, the painting was also given a new name:Devolved Parliament.
More recently, the painting returned to the spotlight once again for another showing in Bristol to mark the date originally intended for "Brexit Day", March 29 2019. The artist took to Instagram at the time to explain: "I made this ten years ago. Bristol museum have just put it back on display to mark Brexit day. "Laugh now, but one day no-one will be in charge".