Enfield Council worked closely with Edmonton based Artist Hive Studios to display creative work across the borough. The 17 pieces were produced for a project called @FromStudioLockdown in which artists and creatives were invited to share their experiences of daily life in lockdown.Edmonton based Artist Hive Studios and EFG Art Ltd. launched @FromStudioLockdown during the first lockdown to celebrate creative resilience of artists during the pandemic. An art trail celebrating the 17 shortlisted artists is now available*.
Enfield Council's Deputy Leader Cllr Ian Barnes explained: "The Council's Cultural Strategy prioritises the delivery of 'culture every day', to make culture part of everyone's life and accessible to all. This public exhibition follows last year's pedestrian crossings designed by local artists, murals on Fore Street and at the Millfield Theatre and the recent giant artwork on the front of the Dugdale Centre in Enfield Town. As well as bringing art to the streets of Enfield, we are proud to be able to support the creative sector, particularly during a time when art fairs, exhibitions and showcases have not been able to take place."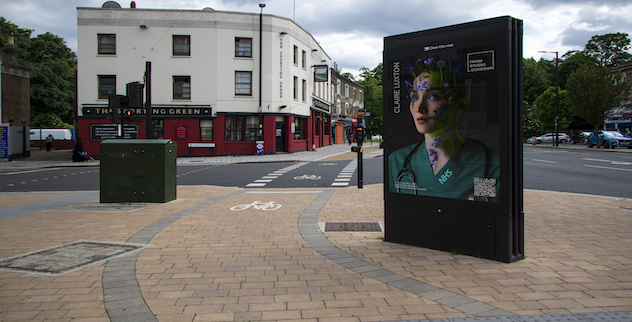 Chantelle Purcell, Co-Founder at Artist Hive Studios, said: "Our project aims to signify a message of hope, of positive reflection, an opportunity for innovation, articulated and spread through the universal language of visual arts. We devised the open call initially to forge new connections and document the creation of works throughout the pandemic. The project aimed to bring people together using humour, poetry and irony at a time of confinement and social distancing. We devised the public art trail to bring a digital project to a IRL context and celebrate these artists' works within our local neighbourhood. Art should be accessible for all and what better way to discover their works."
Artist Hive Studios is a unique studio hub in Upper Edmonton. The hub helps the development of artists' careers, providing affordable studio spaces in a creative environment. Artist Hive Studios will be expanding its premises after successfully funding a community maker's yard with support from L&Q and Travis Perkins Community Legacy Fund. 
Cllr Barnes added: "We are doing an incredible amount of work in the Fore Street area. With the support of the Mayor of London's Good Growth Fund, we have ambitious plans to transform existing underused garages into affordable workspaces, upgrade the existing library, create new street furniture and public art work and implement a clean air route at a local primary school. 
"Working with entrepreneurial local talent such as that found at Artist Hive Studios, we will be able to make Upper Edmonton a thriving and exciting place with opportunities for employment and creativity."
In addition, Enfield Council will be hosting a summer festival in August 2021 at various locations including in Edmonton, focusing on the borough's diverse offering of art, culture and food. To make sure you don't miss out on the details, sign up to Enfield Council's newsletters at www.enfield.gov.uk/enewsletters .