Turkey's flag-carrier air company and UN Migration Agency (IOM) signed a long-term partnership agreement for the promotion of "safe, orderly and regular migration". 
"The cooperation will focus initially on the Organization's Migration Application (MigApp), which leverages the widespread use of telecommunications technology to provide practical information about services available to migrants globally," said Turkish Airlines in a statement on Tuesday. 
The agreement was signed on Monday by IOM Director-General William Swing and Turkish Airlines chairman M. Ilker Ayci in Geneva.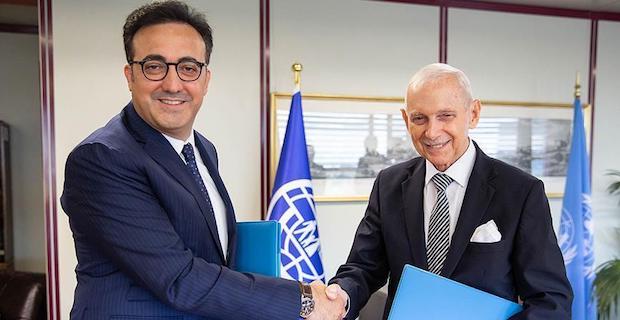 Describing the agreement as "ideal partnership", Swing said: "It will allow us to do a lot more in terms of informing migrants, in terms of promoting migrant rights, in terms of training to sensitize airline officials to smuggling and trafficking in persons which is one of the heinous crimes of our times." 
"Through this agreement we see a way to promote the idea of living together in peace and traveling freely and legally as envisioned under the Sustainable Development Goals of the United Nations," said the flag carrier's Ayci. 
The statement further added: "IOM hopes that the agreement will lead to further collaborations on awareness raising campaigns on safe travel in countries of origin to help counter the trafficking of migrants as well as on cooperation on border support and documentation." 
"It is expected that Turkish Airlines will provide in kind support for IOM's Global Film Festival on Migration which this year attracted 870 film submissions and will take place in over 100 countries in November-December 2018," it added.
IOM's MigApp was launched in December 2017 as part of IOM's transition to digital mobility.
It seeks to offset the enormous volume of misinformation on migration circulating today by providing migrants with information in English about visas, health and travel regulations, alerts on global incidents arising from conflict or natural disasters, and the contact numbers of counter-trafficking hotlines around the world.