Bank of England warns it cannot stop UK falling into recession. Governor Andrew Bailey said it would "overwhelmingly be caused by the actions of Russia and the impact on energy prices".
It expects the economy to shrink in the last three months of 2022 and keep shrinking until the end of 2023.The warning comes ahead of a plan limiting a sharp rise in energy bills.It is understood that a typical energy bill could be capped at around £2,500, with full details expected on Thursday.Currently, a typical household's gas and electricity bill is due to rise from £1,971 to £3,549 in October.Energy prices climbed sharply when lockdown was lifted and the economy started to return to normal. They have increased further as Russia sharply cut its gas supplies to Europe.It has pushed up the price of gas across the continent, including in the UK, having a huge knock-on effect for consumers.
UK will fall into recession this year, warns Bank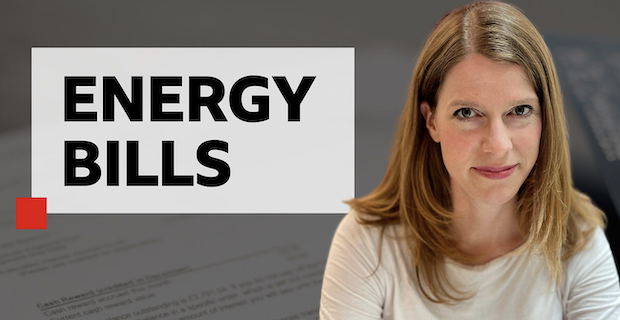 Speaking in front of the Treasury Select Committee on Wednesday, Mr Bailey said "sadly" a recession remained the most likely outcome in the UK.
When asked by MPs if there was much that the central bank could do to stop it, he said: "Insofar as the war is having this huge effect, the answer to that would be no."
The Bank predicted a UK recession last month as it raised interest rates by the highest in 27 years in a bid to keep soaring prices under control.
Higher interest rates can make borrowing more expensive, meaning people have less money to spend and prices will stop rising as quickly. But there is a limit as to how effective UK interest rate rises can be in slowing inflation when it is caused by global issues.

Governor Andrew Bailey said a recession would "overwhelmingly be caused by the actions of Russia and the impact on energy prices".
Defending its recent moves, Mr Bailey added: "The person going to put the UK in recession is Vladimir Putin, not the MPC [Monetary Policy Committee]."
He said the Bank would take the new prime minister's energy plan announcement "into account" when deciding on interest rates next week.
Other economists still expect the UK to fall into a recession despite Liz Truss's energy support plan - albeit a shorter and less severe one.
But some suggested on Wednesday that plans to cap energy bills could mean that increases in the cost of living will peak earlier and be "significantly lower" than previously forecast.
The cost of living is rising at its fastest rate in 40 years, at 10.1%, with food, fuel and energy prices all up.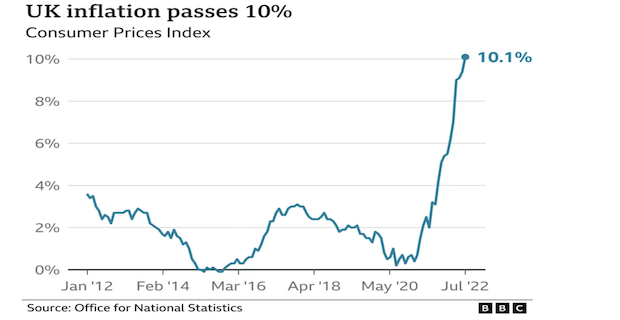 Investment bank Goldman Sachs says a cap on bills for households could see inflation, which tracks how the cost of living changes over time, peak at 10.8% in October, rather than the 14.8% forecast before.While the Bank of England said that the plan could slow rising prices, Goldman Sachs said it would lead to prices falling more quickly as well, with inflation slowing to 2.4% by December 2023.
Both cautioned that there was uncertainty around what exactly the plan will look like and what would happen once any cap is lifted.
The Bank of England's chief economist, Huw Pill, told MPs that "net-net" Ms Truss's plan was likely to see inflation decline.
But he also said it was too soon to say how this might affect interest rates, which have gone up for the last six months in a row as the Bank tries to calm prices.
Charities have warned that millions more households will fall into fuel poverty due to rising bills and expenses.
According to the Office for National Statistics, four in 10 adults who pay energy bills are already finding it "very or somewhat difficult to afford them".

Other economists suggested that the soaring cost of living could be tempered by Ms Truss's support package.Deutsche Bank suggested that a cap on energy bills from October at £2,500 would bring its annual inflation forecast down to 9% year-on-year.Meanwhile, Liz Martin, UK economist at HSBC said on Tuesday: "Cancelling all or most of the planned October and January prices rises [in the energy price cap] could be a game-changer in our view."It would mean that, on a mechanical basis, inflation might already have peaked."
'Sticking plaster'
Others say that capping energy prices at their current level would still leave many people struggling.The End Fuel Poverty Coalition charity estimates that if the energy price cap is frozen at £2,500 this October, 6.9 million UK households will still be in fuel poverty this winter - up from 4.6 million households last winter.There are also concerns about the cost of Ms Truss's plan, with research firm Capital Economics describing the support package as an "effective but expensive sticking plaster".Many expect the government to borrow at least £100bn, adding to the UK's already-high debt pile. This would come as Ms Truss attempts to push through a promised £30bn of tax cuts.On Wednesday, the new Chancellor Kwasi Kwarteng said higher borrowing will be "necessary" in the short term to help people with bills.Paul Johnson, director of the Institute for Fiscal Studies, told the BBC's Today programme: "The big question here is: 'Is it going to be £100bn? What is the exit strategy from supporting bills?'
"My guess is it might end up being an awful lot more than that unless we react quite quickly to make it a better [energy] system," he said, adding that the move would benefit affluent people more than the less well off.
Some MPs have hit out at the Bank of England, accusing it of being slow to react to rising prices and protect vulnerable households.
But Andrew Bailey told the committee that since the Bank of England gained independence 25 years ago, "inflation has averaged pretty much on target" until the last few months.
Kwasi Kwarteng reiterated in a statement on Wednesday his "full support for the independent Bank of England and their mission to control inflation, which is central to tackling cost of living challenges". It was issued after his first meeting with Andrew Bailey in his new position as chancellor.By Lora Jones/BBC News