The funding from the government's Landscape Recovery Scheme is a  share of around £12 million in development grants to help us finalise our delivery plans. It will support our efforts to work with partners such as Thames21 to create hundreds of hectares of woodlands and grassland, wetlands and restore rivers, expanding on the Enfield Chase Restoration Project which starts in the north of the borough. Enfield Council's Cabinet Member for Environment, Cllr Rick Jewell, said: "Our aim is to improve biodiversity across the borough, create new and expanded habitats for wildlife and broaden access to our blue and green spaces.
"The work at Enfield Chase is London's largest woodland and nature restoration initiative with an aim to convert up to 1,000 hectares of farmland into a publicly accessible natural space which links to our existing parks and open spaces.
"It will result in the planting of a million new trees, and the creation of hundreds of ponds and wetlands that will be easily accessed through a network of footpaths and cycleways."
Enfield Council's Deputy Leader, Cllr Ergin Erbil, added: "This would be one of the only nature restoration projects close to a large city in the UK and will deliver sustainable benefits locally, regionally and nationally."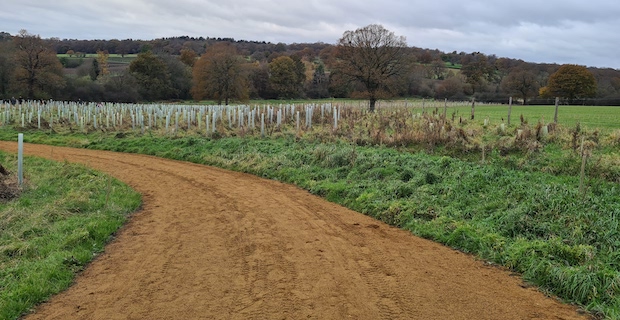 The project will also make a positive contribution to the Council's ambition of creating a net zero borough by 2040. Converting farmland to a mosaic habitat of woodlands, wetlands, grasslands and scrub stretching over hundreds of hectares will create a significant area to absorb carbon dioxide from the atmosphere.
The funding from the Department for Environment, Food and Rural Affairs will help Enfield Council to develop the project with stakeholders that will include farm tenants, community groups, Thames21, the Environment Agency, Natural England, The Forestry Commission and the Mayor of London. Debbie Leach, CEO of Thames21, said: "We are delighted to be working with Enfield Council again to help develop healthy rivers and landscapes. This project ties into some of the objectives in our Five Year Plan, which features aims to make our rivers and communities climate resilient through initiatives such as nature-based solutions and river restoration programmes."
There are many considerations for the project, including the reintroduction of animals and species such as Brown Trout and Grayling fish and water voles. It will also see the re-introduction of conservation cattle grazing. This will create and maintain a habitat for a wide range of threatened birds, small mammals, insects, reptiles and amphibians.
To keep up to date with developments, visit the Let's Talk Enfield Blue Green Hub. Opportunities to get involved in river restoration and tree planting activities will start this winter.