Six years after the EU signed the Istanbul Convention; the European Union is set to finally ratify this key international legal instrument that aims to eradicate violence against women. The Council has finally overcome the conservative minority opposition and requested the European Parliament's consent for the EU ratification and accession to parts of the Istanbul convention. For the Socialists and Democrats who have repeatedly called for EU accession to the Istanbul Convention, and for its ratification by all individual member states, today's vote is a great achievement in a long political battle. However, their fight does not stop here.  The S&Ds are now pushing for an even more comprehensive and stronger instrument to fight against gender-based violence at the EU level:  a directive on combating violence against women. We want this directive to tackle and criminalise all forms of violence, including rape and cybercrimes. We also want gender-based violence to be recognised as an EU Crime, so that anyone who abuses on the basis of gender faces full justice.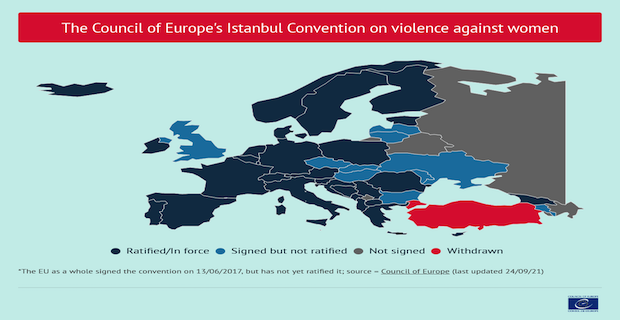 Łukasz Kohut, S&D rapporteur on the EU accession to the Istanbul Convention for the civil liberties committee, said:
 
"It is a historic day for Europe and all European women! Thanks to the Istanbul Convention, we will be able to better protect them against violence. Today's vote on the accession of the entire European Union to the Istanbul Convention is a matter of simple human decency. Anyone voting against this is, in fact, in favour of tolerating domestic violence."Gender-based violence is the biggest unsolved daily problem in Europe. One in three women in the EU has experienced physical and/or sexual violence – around 62 million women. Enough is enough! The Istanbul Convention is recognised as the most effective tool for combating gender-based violence, because it imposes concrete obligations. An anti-violence umbrella shall be open at the European-wide level through the EU accession to the Istanbul Convention!"
 
Pina Picierno, S&D shadow rapporteur for the women's rights and gender equality committee, said:
 
"The EU ratification of the Istanbul Convention may seem like the final achievement of a long political battle. But in fact it is only the beginning, and the first step, of a more comprehensive and stronger strategy to fight against gender-based violence. A second, fundamental step in this direction will be the directive on combating violence against women for which we are tirelessly negotiating right now. These two pieces of legislation together will complement each other, and will finally put at the centre of European politics a social tragedy that for too long we have been neglecting. 
"We count now on the member states to implement what we are courageously deciding today in Strasbourg: to finally have justice and to protect European women."