The end of the queue is now four miles from Westminster Hall where the Queen is lying in state. Thousands of mourners queued for many hours through the night for their chance to file past the coffinThe Prince and Princess of Wales are in Sandringham looking at floral tributes.King Charles is spending the day at his country home, Highgrove.The Queen's funeral will be held on Monday 19 September.The queue now stretches past Butler's Wharf, just east of Tower BridgeImage caption: The queue now stretches past Butler's Wharf, just east of Tower BridgeEarlier we brought you some practical tips about joining the queue, as thousands line up to pay tribute to the Queen as she lies in state.Top of that list, with the queue now at four miles (6.4km) long, is to expect a long wait - and be prepared to stand on your feet for many hours.Often the pace is tediously slow, but at other times, it can be brisk - recent anecdotes say the pace really picks up after the London Eye.But aside from wrapping up warm, keeping baggage to a minimum and having access to food and drink, there is also the issue of how to reach the queue.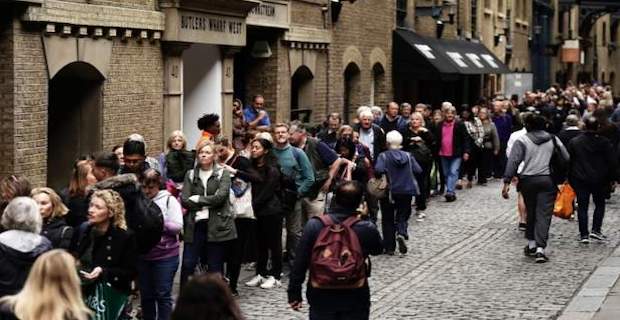 The UK government has published a live queue tracker for people to follow on YouTube. Keep checking that to see where the back of the queue is, as it keeps moving.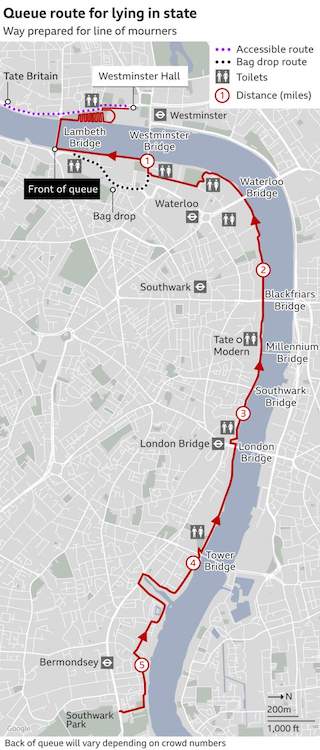 Transport into, and across London, is busy – as people travel to the capital to pay their respects, or just come to see the many flowers left for the late Queen.
Transport for London (TfL) said nearly 115,000 more tube journeys were made to, or from, eight stations in the city centre on Wednesday, including Hyde Park Corner and Piccadilly Circus, compared with the same day last week – an increase of 20%.
Green Park station has already had to close on a number of occasions due to overcrowding.
Generally, where possible, the overwhelming advice is to walk within central London – taking in the many sites and tributes as you go.
Lying-in-state queue length hits four miles
The queue to see the Queen lying-in-state has now passed four miles (6.9km) in length.It stretches from Westminster Hall all the way past Tower Bridge along the south bank of the River Thames.The queue to see the Queen lying in state has grown over the course of this morning and is now around three miles (4.8km) long, according to the government's tracker.It stretches along the southern bank of the River Thames to between London Bridge and Tower Bridge, with HMS Belfast the closest landmark to the back of the line.For those wanting to pay their respects virtually, there is a dedicated video stream of the coffin resting in Westminster Hall.