Written by, Nejla Clements (Secretary, Council of Turkish Cypriot Associations - CTCA) and James Clements (Treasurer, Embargoed.org). : "The Turkish Cypriot flag was raised outside the town hall of the London Borough of Waltham Forest (LBWF) on the morning of the 15th of November 2021. This followed from an inititative by Turkish Cypriot community leaders leading to discussion and agreement with the council. It was a proud moment for our community to see our flag given civic recognition at long last. Our pride was to be short-lived, however: within two hours, the leader of the Council, Grace Williams, had received a call from Greek Cypriot officials saying the flying of the flag was offensive to them. Accordingly, following her orders, the flag was unceremoniously taken down and dumped. She then issued a formal statement apologising for any offence caused.In December, our community leaders, under the auspices of Konsey-CTCAUK organised a protest in front of the Town Hall, which was attended by more than four hundred people. This was a demonstation about the council's lack of recognition of our community, British Turkish Cypriots, as represented by our flag, and our outrage at its summary disposal. We asked to meet and speak with Grace Williams about the way forward, but she refused. A second large-scale protest took place in March 2022, within a similar inconclusive outcome."

Council of Turkish Cypriot Associations : "Some members of a lobby group from Embargoed! and BTCA then came up with the idea of a weekly vigil at Fellowship Square, outside LBWF Town Hall, and that is where we come in.  'We' are Nejla and James Clements, General Secretary of Konsey-CTCAUK and Treasurer of Embargoed! respectively; two retired teachers. We initiated a two-hour weekly vigil from the 1st of April 2022, pending a legal case to be raised on this matter.  Our plan was to sit with a placard demanding equal rights for Turkish Cypriots, speak with passers-by and hand out leaflets, which is what we do. This is generally timed to coincide with the weekly council committee meetings in order to 'nab' councillors on their way in to these meetings.Although we find this time consuming, it is now built into our weekly schedule and we feel good about raising the profile of our community.  As the months have passed, we have become familiar to many members of the council security and administative staff, with whom we feel we have cordial relations, even though a respectful degree of formality remains. As for the passers-by, we have spoken to several councillors, who have generally shown support for our cause, some academics who showed a deeper intellectual interest, a number of Turkish and Greek Cypriots, and many other individuals from the general public who also voiced support for what we are trying to achieve, which is equal rights for British Turkish Cypriots. We plan to continue with the vigil until an appropriate legal case can be raised and action taken."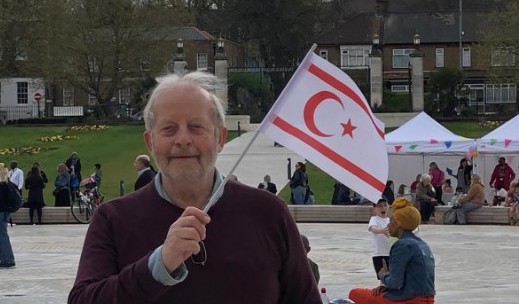 Council of Turkish Cypriot Associations : "Each week brings something unusual or unexpected. On the first vigil, at Grace Williams' surgery, we asked to speak to her. Two hours later, an official advised us she had already left by a back exit, but when we looked for a back exit later, it turned out there was no such thing! This was an example of how she avoids our human rights issue. Other occasions, however, have brought us pleasure: for example, we saw many wedding gatherings and were delighted to sometimes feature as 'guests', our presence being captured for posterity by the photographer.  We much appreciated when one of the staff recently remarked about our stand, 'A luta continua' - a Portuguese phrase which means, "The struggle continues'. The sentiment has since been widely adopted by those seeking justice and change."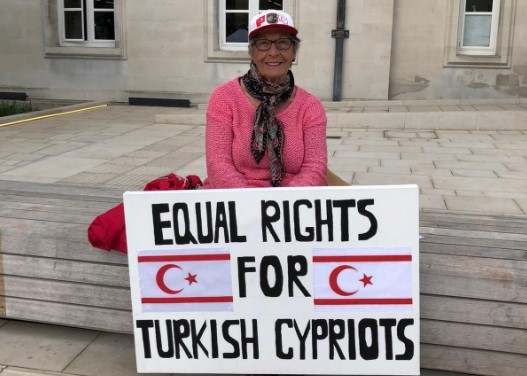 Council of Turkish Cypriot Associations ends: "We will always fight for equal rights for Turkish Cypriots!President of CTCA and Chair of Embargoed! Fahri Zihni expressed his heartfelt thanks to Nejla and James Clements for their spirited dedication to this cause."