The British Turkish Cypriot Association (BTCA) and Council of Turkish Cypriot Associations in Britain (CTCA) hosted the third in a three-part series of online events on Wednesday 24 March, in collaboration with The Circle Foundation and hosted by the former UK Government Minister Brooks Newmark. The panel, moderated by Mr Newmark was made up of Jack Straw, former British Foreign Secretary, Ergün Olgun, Special Representative to Turkish Republic of Northern Cyprus (TRNC) President Ersin Tatar, Lord Northbrook, Co-Chair APPG TRNC, Sir David Amess, Member of Parliament for Southend West and Prof. Dr. Hasan Ünal, Professor of Political Science and International Relations, at Maltepe University, Istanbul.

The first question centred on why the TRNC President Ersin Tatar favours a two-state solution to the Cyprus Issue. Former UK Foreign Secretary Jack Straw kicked off the discussion, saying that he believed the Turkish Cypriots were opting for two states because a bi-zonal, bi-communal federal Cyprus is no longer possible. He added that he thought the two-state approach was "sensible and necessary".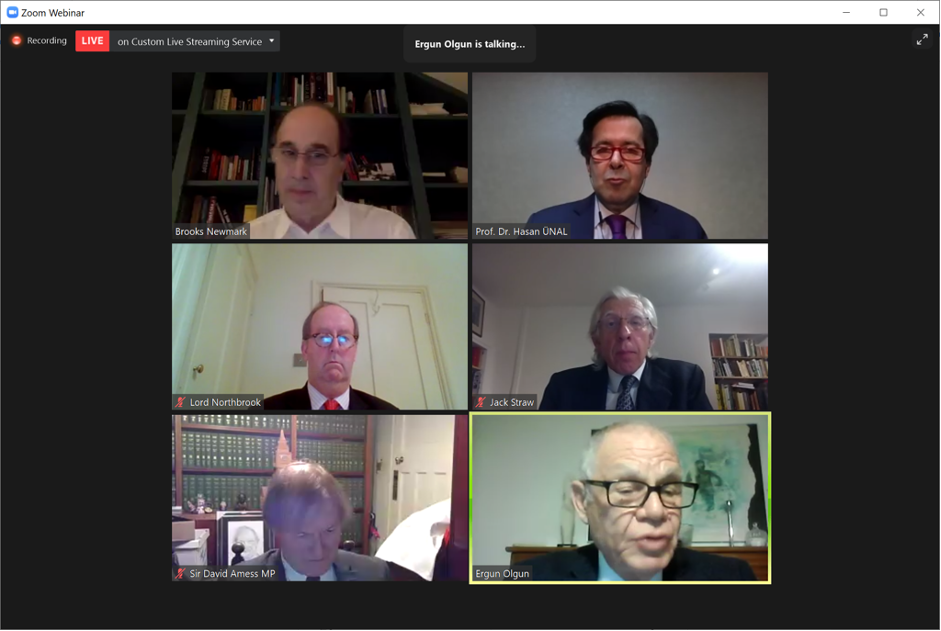 He added that this was caused by the behaviour of former Greek Cypriot President Tassos Papadopoulos — whom he described as a "dreadful man" — for opposing unification in 2004. He added that this was reinforced by the big mistake made by the European Union of "allowing a divided Cyprus to come into the European Union as a single entity" and that "the status quo absolutely favours them [the Greek Cypriots]".

Mr Straw also mentioned that in order for a two-state solution to succeed, a number of special interests would need to be overcome, especially from Russia. "Russia will stick to Greek Cyprus like glue" he explained, because of the cultural, religious and economic ties between the two countries, a major problem because of Russia's seat on the United Nations (UN) Security Council. Despite the challenges however, Mr Straw maintained that he was "not in any doubt that the two-state solution is the only answer" as the Greek Cypriots have made any other option impossible, and because this model could provide for a just settlement to the problem. 

On the issue of Russia's role however, Prof. Dr. Hasan Ünal commented that improving relations between Moscow and Ankara could impact the situation, saying "it's not just a friendship between Erdogan and Putin, but a new kind of relationship which is flourishing between Turkey and Russia" as both sides were benefiting, giving the Turkish construction sector in Russia and Russian tourism in Turkey as examples. He also argued that Azerbaijan could not have won such a quick victory over Armenia in Nagorno-Karabakh without this new Russian-Turkish relationship. Based on this and improving Greek Cypriot ties with NATO-member France, he concluded that "no one can actually predict what might happen between Russia and the Greeks [i.e., Greek Cypriots]".
Panellists also discussed the upcoming 5 +1 Geneva Summit on the Cyprus Issue. Ergün Olgun discussed the UN Secretary General's aims, saying "the purpose is to try to see whether common ground exists." He caveated this however, arguing that both sides' positions were diametrically opposed, explaining that "the Greek Cypriot vision is that the Turkish Cypriots can be a protected minority into the usurper Republic of Cyprus" and that this is not acceptable to the Turkish Cypriot side. He added that failure to find common ground at Geneva could lead to another meeting in a month's time, and that this is the most likely outcome.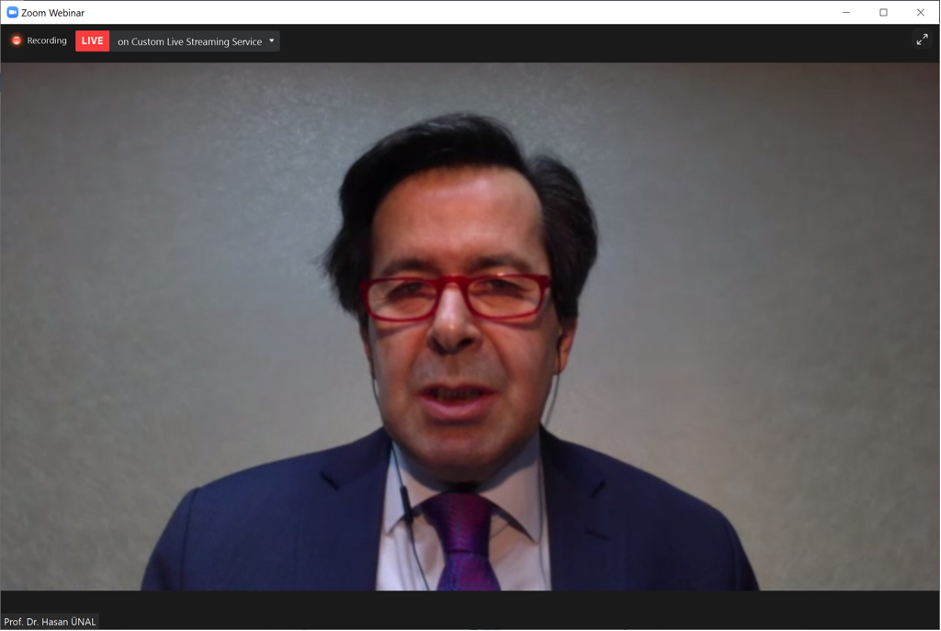 When asked whether he thought the European Union (EU) could be a helpful participant in this process, Sir David Amess MP said, "The European Union could be helpful if it is impartial" but criticised the EU's admission of the Republic of Cyprus as "barmy" and a "terrible mistake". On the current East Mediterranean Crisis, he also argued that "blackmailing Turkey with sanctions will serve no purpose whatsoever" on the Cyprus issue, other than creating "another stalemate". He also emphasised that hydrocarbons in the region "need to be shared fairly" between all sides. Mr Olgun however disagreed with Sir David, saying there was "no chance" that the EU could be impartial because of the role of Greece and the Republic of Cyprus as member states.
Panellists also touched on the closure of the border between the TRNC and Republic of Cyprus to non-EU citizens by the Greek Cypriots. Lord Northbrook called for a re-introduction of touchdown flights through Turkey to overcome this problem, saying, "I continue to believe that efforts should be made to re-instate touchdown if possible." He added that part of the reason for the suspension of touchdown flights was due to pressure put on Pegasus Airlines by the UK Government's Department of Transport in 2017. 

The issue of touchdown flights circled the discussion back round to the two-state solution model and Britain's potential role in this process. Mr Straw commented that Britain could start direct flights to North Cyprus' Ercan Airport if it wanted to, as the EU is a "paper tiger" with limited foreign policy capability of its own to stop the UK from doing so. Lord Northbrook also suggested that Britain could send a trade representative to the TRNC and start direct flights, which would be the same as the UK's relationship with Taiwan which it also does not recognise. Mr Olgun however, argued that Britain could take a step further saying that "The TRNC fulfils all of the conditions for a state, what it needs is recognition, and recognition is a political choice" and that "there is no limitation on Britain to recognise the TRNC."
When asked for his views about how he would advise current Foreign Secretary Dominic Raab on the issue, Mr Straw argued that "We ought to be working towards a two-state solution" and that Britain needs to use its influence as a guarantor power. He also said that the UK should "try to get the United States on side" and "forget the European Union".

Prof. Dr. Ünal also argued that two states could have a stabilising impact in the Eastern Mediterranean, by making it a "sea of peace" which could in turn facilitate good relations between the TRNC, the Republic of Cyprus and the mainland Greeks.

Lastly, the panellists discussed what Turkish Cypriot officials as well as diaspora communities in Britain could do to overcome the international dominance of the Greek Cypriot narrative. Both Mr Straw and Mr Olgun called for North Cyprus to invest more in PR support to communicate their side of the story. Sir David Amess and Lord Northbrook also encouraged British Turkish Cypriot communities to engage with their MPs and other parliamentarians to raise awareness of their cause. In addition, Mr Straw suggested that Turkish Cypriots in Britain should join the Labour and Conservative parties in order to improve their ability to lobby.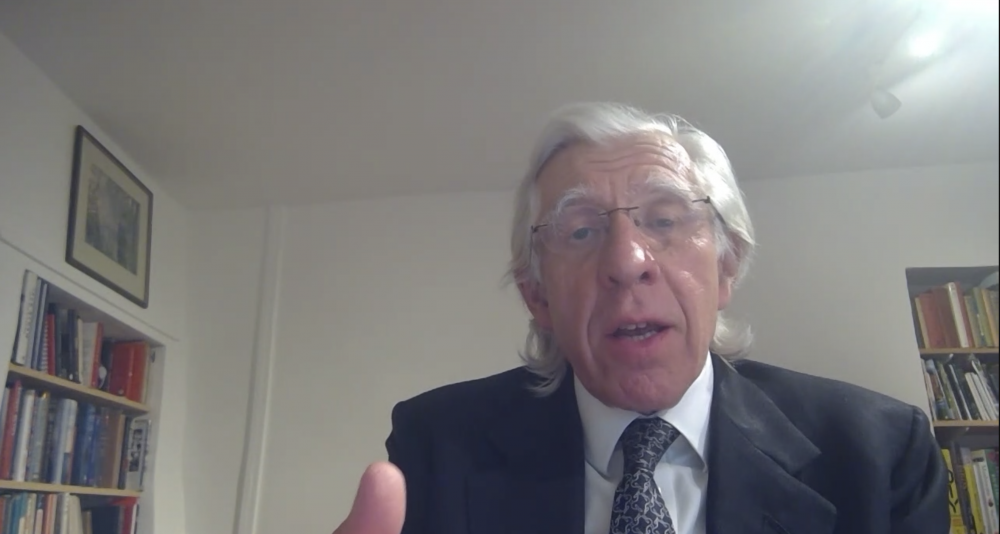 Closing Statement by CTCA, BTCA and Circle Foundation Team was also read at the end of the panel (by Mr Cetin Ramadan, Mrs Leyla Kemal, Ms Sonya Karafistan, Mr Enes Güzel, Mr Japha Huse and Rikki Williams):
"We stress the need for political, economic and social parity and a level playing field for peace and stability in Cyprus to succeed. Both the EU and the International Community have failed to secure this; despite the fact that the two sides are recognised as political equals and their promises that the unjustified restrictions on Turkish North Cyprus will be lifted. An alternative Plan B or Two State Solution has to be tabled as a serious option otherwise the Greek Cypriots will continue to take advantage of the present situation".
The previous two webinars have attracted audiences of over 200,000.  Broadcast online via Turkish Cypriot TV channels BRT and Kanal T, via terrestrial TV and on-line broadcasts.