The cap applies to more than 130 bus operators outside London. It had been due to expire on 31 March, but has been extended until the end of June. Bus operators have been struggling to maintain service levels in the face of rising costs and passenger numbers not recovering to pre-pandemic levels. The cap was introduced partly as a cost of living measure but is also meant to encourage people back on to buses.
"Getting more people onto reliable and affordable buses will strengthen communities and help grow the economy," said Prime Minister Rishi Sunak.
Up to 15% of services could have been scrapped without further funding, the Confederation of Passenger Transport, which represents bus and coach firms, said earlier this month.
During the pandemic the government provided £2bn to support bus firms, who provide the most popular form of public transport in England.
It said the extension for bus fares would be backed by up to £75m in funding.
The cities of Manchester, Liverpool and West Yorkshire - all of which have Labour mayors - have already introduced £2 caps as part of longer-term schemes.
The government said a further £80m would be made available to support critical bus services in England as part of a wider package.
"We're providing £155m to help passengers save money on fares, get more people on the bus and protect vital bus routes - helping with the cost of living and enabling people to get where they need to in an affordable and convenient way," said Transport Secretary Mark Harper.
The Campaign for Better Transport welcomed the announcement, saying the government should market the scheme so as to attract new people on to buses.
"However, another extension only gets us so far. We are urging government to implement long-term funding reform to avoid more uncertainty and give everyone access to affordable and reliable bus services," said Paul Tuohy from the campaign.
Emily Turner, who went viral on social media after travelling from London to Edinburgh using £2 bus tickets, said the extension would help a lot of people.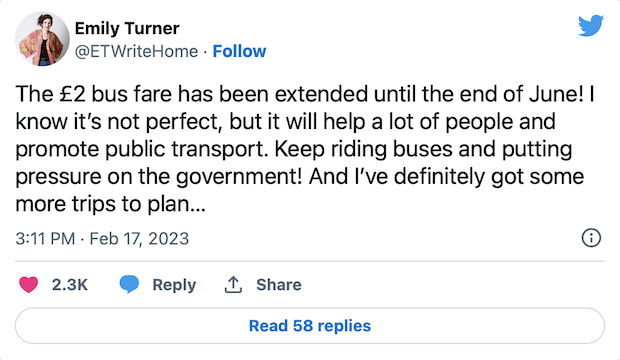 "I don't think this is a fix for many transport problems in this country, but it's definitely a start," Emily told the BBC. The transport watchdog Transport Focus said the funding would help many people who are struggling with rising living costs. Inflation - the rate at which prices rise - is currently near a 40-year high, but has eased in recent months. The Office for National Statistics said the £2 fare cap was a contributing factor in inflation slowing down in January.