The prime minister told a No 10 briefing the UK was at a "critical moment" and the rising number of cases and deaths shows "why our plan is so essential". He said he would "not hesitate" to impose further restrictions if needed. Chief scientific adviser Sir Patrick Vallance said: "We don't have this under control at the moment."
"There's no cause for complacency here at all," he added.

It comes as the latest UK coronavirus figures showed there have been a further 7,108 cases and another 71 deaths.Last week, Mr Johnson introduced restrictions including a 10pm closing time for pubs, bars and restaurants in England, with similar announcements in Scotland and Wales, and a 15-person limit on weddings.Since then, further local lockdowns have come into force, including in north-east England, where households are banned from mixing indoors.
At the press conference at Downing Street, Mr Johnson also said the nation could face the winter "with confidence" because it was now better prepared than in March.
The preparations include being on track for 500,000 tests a day by the end of October, 2,000 beds in seven Nightingale hospitals and a four-month supply of protective equipment (PPE) such as masks, gowns and visors.

He said they had trebled the number of ventilators in the NHS to 31,500 in the last six months.
There were 312 Covid-19 patients in mechanical ventilator beds as of Tuesday, the government said, and 2,252 in hospital, as reported on Monday.

However, the UK, like other countries, is in a much stronger position than we were when we walked blind into the first wave.
Better treatments are in place, social distancing has become routine and - despite the problems - there is much more testing available.
The odds are certainly stacked in our favour more than they were six months ago.

Mr Johnson also thanked "everyone for the fantastic national effort that we are seeing".
"No matter how impatient we may be, how fed up we may become, there is only one way of doing this, and that's by showing a collective forbearance, common sense and willingness to make sacrifices for the safety of others," he said.Mr Johnson paid particular tribute to university students, hundreds of whom have been forced to self-isolate, and are "experiencing a first term back at university unlike anything they could have imagined".
PM defends 'strong local' Covid measures. New restrictions have been introduced in parts of north-east England, banning two households from mixing with each other anywhere indoors. The prime minister apologised after he "misspoke" when discussing the new rules.
What's happening in north-east England?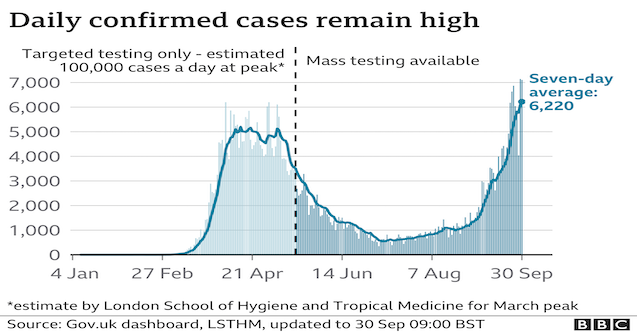 In the affected areas, people can no longer mix with anyone outside their own household in any indoor setting (although support bubbles are exempt).
This means you cannot go for a drink or a meal with someone you don't live with, in a pub or restaurant. The BBC has been told mixing in pub gardens or outdoor restaurant spaces will not be illegal but goes against advice.
The measure affects County Durham, Gateshead, Newcastle, North Tyneside, South Tyneside, Northumberland and Sunderland.
Households in the region had already been advised to avoid mixing - including in homes - but the new ban will be enforced with fines. Anyone over 18 found breaking the rules can be dispersed by police, or face fines starting at £200 and going up to £6,400. 
The restrictions don't apply to schools or workplaces. 
The measures have been criticised for causing "confusion" because of a lack of detail.
When asked if people in the North East can still meet people from other households outside, such as in a pub garden, Mr Johnson said people should follow local guidance and urged them to use their common sense. He went on to wrongly talk about the rule of six.