The 1983 Mental Health Act is outdated and needs an overhaul, sectioning is being misused and does not properly protect patients' rights, it says.
The independent review - ordered by the government - heard from patients who had suffered during their detentions.
The prime minister said the injustices were unacceptable and promised action. 
'Anxious and suicidal'
Kate King, 56, spent seven years in and out of hospitals in East Anglia after being admitted in 2004 following a period of post-natal depression.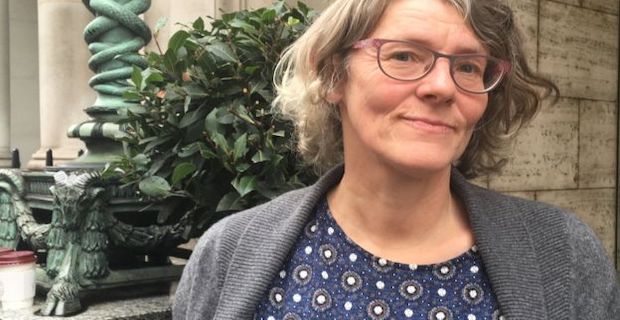 She said her detention probably saved her life as she had been really struggling following the birth of her two children but her experience, in a variety of units, had been "awful" at times.
"I was abused and ignored. I lost my voice," she said.
She said she had experienced other patients being aggressive and swearing at her, with one even stalking her.
But she also complained about her treatment at the hands of staff.
"I was restrained face down on a mattress. One nurse even told me I should kill myself," she said.
"When I tried to object or complain, I was not listened to. There was good care too - I remember once being taken go-karting. But my experiences left me anxious and suicidal."
What is the solution?
Mrs King formed part of the working group put together to review the way the Mental Health Act worked.
It included mental health professionals, academics and patients.
The 18-month review recommended a number of changes, including:
new rights for patients to legally challenge their treatment
more frequent opportunities to challenge detention
legally binding advanced care plans so patients could express how they wanted to be treated if they were sectioned
a requirement for doctors to record when and why they chose to ignore patient requests
an end to police cells being used as a place of safety and less frequent use of police cars to transport patients 
the right to choose a "nominated person" to have control of a patient's care if they were sectioned - at the moment it automatically goes to their nearest relative
Professor Sir Simon Wessely, who chaired the review, said it was time to bring the act up to date.
"It was written when people with a mental health problem were something to be afraid of. But the way we think about mental health and illness has changed dramatically, so now they are more likely to be seen as people to be helped. 
"The act needs to help them more - to make it easier for people to express their choices and preferences about how they want to be treated and harder for them to be ignored."
He added black and ethnic minorities along with people with learning disabilities and autism appeared to be particularly ill-served by the act as they had higher rates of detention.
Speaking to Radio 4's Today programme, Sir Simon said BME groups had higher rates of mental illness "probably because of early experiences of discrimination and exclusion".
He also said it was important to note that such groups were more likely to be perceived as a risk. 
How many patients does this affect?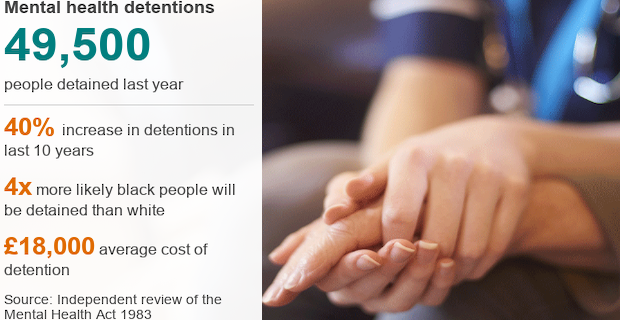 The act deals with patients who are detained in hospital. Every year about 1.8 million patients receive mental health treatment - but only one in 20 of these is treated in hospital.
About half of those are admitted voluntarily, with nearly 50,000 detained against their will for their own protection or the protection of others.
The numbers being detained have been rising - up by 40% in the past 10 years.
Sir Simon said there is no one reason for the increase but added that it is partly down to society becoming more "risk averse" but also because there are fewer alternatives to detention.
The rise in population will account for a small proportion of the rise but beyond that there is concern the act may be being misused.
There have been reports of dementia patients being detained, while black and ethnic minority patients are much more likely to be sectioned.
As well as reducing the number of detentions, the review group wants to see a reduction in the use of compulsory treatment orders whereby patients are released from hospital under supervision.
They say public safety will not be put at risk.
But they acknowledge the changes will require greater investment in community services, particularly crisis care to stop people deteriorating to such an extent that they need hospital treatment.
The recommendations relate to England and Wales only. The review team said Scotland had already started making some of these changes, while Northern Ireland has agreed to review its own laws.
What has been the reaction?
Mental health charities are overwhelmingly supportive of the recommendations.
Mind chief executive Paul Farmer said the legislation was outdated, with thousands of people every year having to endure "poor treatment".
Mark Winstanley, of Rethink Mental Illness, said the charity had "long campaigned" for reform of the act. 
"Countless people have told us how they felt disrespected and lost all control of their care while treated under the act," he said.
And even doctors acknowledged change was needed. Royal College of Psychiatrists president Prof Wendy Burn said detention was clearly "incredibly stressful" for patients and there needed to be a focus on improving their experiences.
Prime Minister Theresa May said the review would be used to make changes to the legislation. 
"The disparity in our mental health services is one of the burning injustices this country faces that we must put right," she said.
"For decades, it has somehow been accepted that if you have a mental illness you will not receive the same access to treatment as if you have a physical ailment. Well, that is not acceptable."