Create with the support of the agency the musicians lay solid foundations for a long-term and continuous career Placements in the charts. This makes Drap Media the promising alternative the current trend to buy into the charts at short notice. This is how Drap Media systematically makes its customers successful: With the range of services especially for aspiring rap musicians, Drap Media has been able to Establish a promising opportunity for newcomers in 2018. Especially in the current times In which many rappers buy their way into the charts are reach, online presence and Contacts are more important than ever. And it is precisely this foundation that Drap Media offers the rap Scene.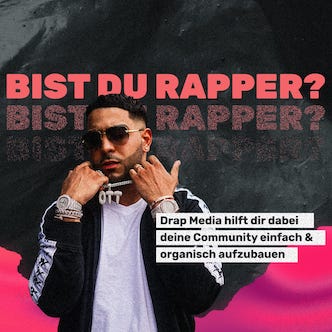 The agency supports the musicians in the following areas, among others:
1. Network Drap Media gives young musicians the chance to meet important people from
Managers, agencies, other artists, and so on
to gain a foothold in the competitive market in the long term.
2. Reach Customers can also benefit from the reach of Drap Media.
The customers of this extraordinary agency will be heard on all relevant German rap
Pages published and thus reach over 22.5 million subscribers in more than 50 ways.
In addition, attention-grabbing shoutouts also belong on a wide variety of things
Channels to the agency's extensive range of services.
3. Social media presence With drap media, the aspiring rappers do not only use that
Reach out from others, but also build your own internet presence with numerous
Followers on. The Spotify streaming platform is particularly important for musicians.
With Drap Media, the musicians have an experienced expert at theirs for this channel too
Side, which they use tried and tested tactics for playlist pitching but also with solid ones
Basics like your own cover supplied.

 In addition to Spotify, Instagram plays one crucial role for the long-term success of a newcomer.
That is why the agency covers also this area and supports the sustainable development of relevant followers. Drap Media can thus promote its customers via Google Ads, YouTube Ads, Instagram and Facebook Ads, TikTok Ads, Spotify Ads, millions of big influencers on TikTok and much more! Drap Media also offers its customers a comprehensive range of offers for the conception and development of Instagram face filters, designs and beats. With all these building blocks, Drap Media offers young artists a digital stage and a realistic chance of a successful entry into the rap scene.

The person behind Drap Media
An experienced social media expert, a networked one, works for the success of the customers
Entrepreneur and a passionate musician rolled into one. Daniel Dantsiger has Drap Media 2018
conceived, founded and successfully brought to market. As a real all-round talent and
With his large network, he has so far been able to take care of Drap Media's clients
lift alone. However, in order to be able to meet the growing demand, he currently provides
other employees who have a passion for digital, entrepreneurship and rap music
share as much as he does himself.
Of course, Drap Media is not out of nowhere and solely through the passion of Daniel "Dan" Dantsiger
become so successful. Since 2014, Dan has been making the rules the hard way for the long term
Breakthrough in the digital world learned in several projects.
Today he can use his accumulated experience, his network and his
Use passion for rap music to reliably help newcomers.
This combination of knowledge and passion is probably the secret of the company's success
extraordinary agency Drap Media.