"Centennial Celebration in London: 100 Years of Turkish Republic Concert Showcases Türkiye's Musical Heritage" The commemoration of the centenary of the Republic of Türkiye resonated with profound cultural significance during the 100 Years of Turkish Republic Concert held at the Amaryllis Fleming Concert Hall, Royal College of Music, on October 28, 2023. Organized by the Yunus Emre Institute London and supported by the Turkish Embassy in London, the event stood as a testament to Türkiye's enduring legacy and cultural richness.
 
His Excellency Osman Koray Ertaş, the Ambassador of the Republic of Türkiye to the United Kingdom, opened the evening with a heartfelt address, acknowledging the pivotal role of the Republic in shaping Türkiye's rich history and vibrant cultural identity. Ambassador Ertaş's words paid tribute to the visionary Mustafa Kemal Atatürk, underscoring the Republic's journey of resilience, progress, and national spirit over the past century.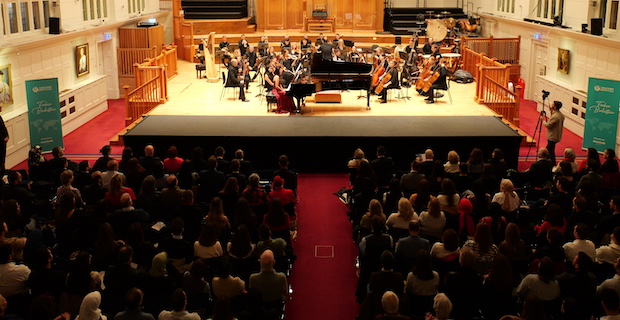 The 100 Years of Turkish Republic Concert showcased the world premiere of the esteemed composer Yalçın Tura's Piano Concerto, an exquisite musical composition seamlessly blending traditional Turkish musical elements with classical Western techniques. This harmonious fusion echoed the profound depth of Türkiye's cultural heritage, serving as a testament to the nation's artistic evolution over the past century. The stellar performance by renowned pianist Pınar Çelik Warsi, accompanied by the esteemed London Chamber Orchestra, enthralled the audience, serving as a poignant ode to the Republic's rich cultural legacy. Under the masterful baton of Maestro Hasan Niyazi Tura, the concert hall reverberated with the intricate harmony of cultural fusion, honouring Türkiye's musical heritage and the enduring spirit of its people. 
 
The evening's diverse program also featured a rich tapestry of musical expressions, including Hasan Niyazi Tura's evocative "Centennial Tango" and the stirring "Turkish Dances," alongside timeless masterpieces by esteemed British composers such as Frederick Delius and Ralph Vaughan-Williams. Hasan Uçarsu's soul-stirring "Andante from Harp Concerto 'Uninvited Guests,'" inspired by the 18th-century Ottoman composer Dilhayat Kalfa's timeless masterpiece "Evcara Saz Semaisi," evoked a sense of profound cultural resonance, intertwining past and present. As a composition expertly weaving the melodies of the old world, it highlighted the lasting influence of Turkish cultural traditions on contemporary musical expressions, serving as a notable example.
 
The thunderous applause and standing ovation at the conclusion of the concert symbolized the profound impact of the 100 Years of Turkish Republic Concert, a heartfelt homage to Türkiye's rich cultural heritage and the enduring legacy of the Republic's centenary.